Exclusive
Vicki's New Man Hit With Restraining Order After 'Punching' Assault & 'Gun' Claims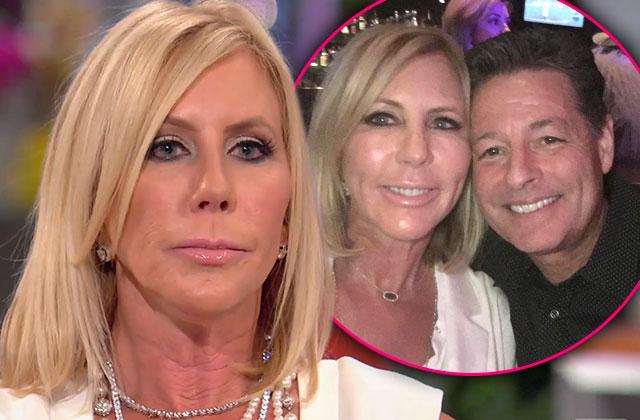 Vicki Gunvalson's new man may be worse than her lying ex-boyfriend Brooks Ayers! RadarOnline.com exclusively obtained a restraining order filed against The Real Housewives of Orange County star's boyfriend Steve Lodge.
Michael Thomas filed for a restraining order asking for protection against Lodge on September 28, 2012.
READ THE BOMBSHELL RESTRAINING ORDER!
"Mr. Lodge appeared at a hotel I was staying and checked in at the same hotel," the documents said of the Sept. 12, 2012, incident. "He called my room from the lobby twice and attempted to identify my room number. Mr. Lodge assaulted me, including but not limited to punching me in the face multiple times."
Article continues below advertisement
Thomas suffered a black eye, bruising and other injuries on his face, the documents claimed.
He also alleged that Lodge "strapped a gun on his body" prior to meeting with him. Lodge allegedly told a woman named Tonya Compton that he would "kill Mr. Thomas if he could get away with it."
"Mr. Lodge is a volatile individual who has assaulted me," he wrote. "He has also stalked me on multiple occasions. I am worried that he may retaliate, stalk or assault me in between the hearing and the time I can get him served."
Thomas also asked for protection against Lodge for his wife, two daughters and father-in-law.
"I am afraid that he may retaliate against my family with whom I reside," the restraining order read. "As I travel often, I am away from the home, I am worried something may happen when I am not at home."
The temporary restraining order was granted.
In Lodge's response, he claimed that Thomas was the one who confronted HIM at the hotel.
Article continues below advertisement
"As we sat down, Thomas said, 'Our deal is off, I'm just a sucker for Damsel's in distress,'" he explained in the documents. "I asked him what he was talking about because he had just a couple hours earlier agreed to stop having the illicit extra-marital affair with my wife. He now said he wasn't going to stop pursuing her."
When Lodge tried to leave Thomas, "stepped closer to him in a threatening manner stating, 'I bet you want to hit me right now.'"
Lodge said he wouldn't hit him in a crowded room and was called a "p***y" by Thomas.
"I turned to walk away and Thomas reached out with his left hand and grabbed my right upper arm," he explained. "Fearing for my safety and recognizing this as an aggressive prelude to physical combat, I immediately defended myself by knocking his hand off me and striking Thomas with my closed fists until I believed him to no longer be a physical threat to me."
On Nov. 16, 2012 the action was dismissed without prejudice and the court ordered the temporary restraining order to be dissolved.
Are you surprised Gunvalson is dating another bad boyfriend? Tell us in the comments!