Exclusive
Vicki Gunvalson's New Man Sued For Using Fake Name To 'Mislead' Voters In Election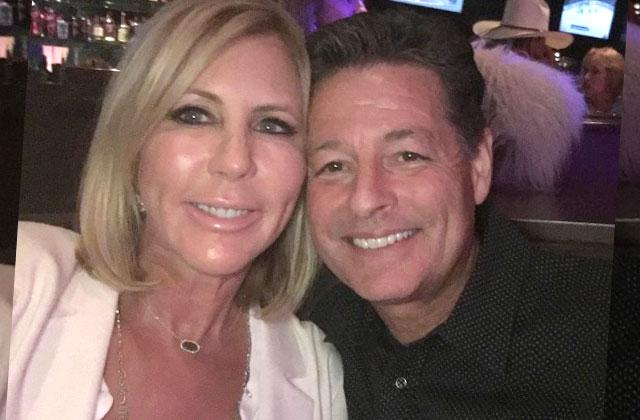 Vicki Gunvalson's ex-boyfriend Brooks Ayers was accused of lying about his cancer diagnosis – and it looks like she may be dating another untrustworthy man! In documents exclusively obtained by RadarOnline.com, The Real Housewives of Orange County star's new man was sued for changing his name during an election to "mislead" voters.
Elector Cynthia Ward sued Steven Lodge for changing his name to Steve Chavez Lodge on ballots while running for Anaheim City Council in August 2012.
Article continues below advertisement
"Lodge has requested that his name appear on the ballot as 'Steve Chavez Lodge,'" the filing reads. "This is not his legal name. Nor is that the same under which he is registered to vote or the name under which he owns property. Rather, the use of the middle name 'Chavez' appears to have been adopted recently for political purposes."
Ward asked for the selected name to be struck from the ballots, as a background check revealed his name is "Steven Albert Lodge."
"Accordingly, Lodge's proposed use of the name 'Steve Chavez Lodge' on the ballot is false and misleading," read the documents.
Ward also asked Lodge's profession of "retired policeman" be removed from the ballot because the Elections Code "prohibits ballot designations that use words or prefixes, such as 'former' or 'ex,' which indicate prior status." If the candidate has a current occupation, it must be listed instead of a former job.
Article continues below advertisement
Since retiring from the police force, Lodge's website reveals he works for an "international construction management firm as a Director of Public Affairs."
Lodge's response to the claims explains he was born Steven Albert Chavez.
"When real party was 12 his parents divorced and his mother married Robert Lodge," the papers read. "Out of deference to his step father real party integrated the name Lodge into his full name. However, it was never real party's intention or desire to forsake his heritage and give up Chavez. Real never legally changed his name to Lodge."
As for his profession, the filing claims he "does not possess a more recent, intervening principle profession, vocation or occupation" and is "not an employee of any company, corporation or business."
However, he did admit to working at the construction management firm on a "month to month contract."
The case was disposed in September 2012.
OC Weekly and Reality Tea were the first to report.
Do you think Gunvalson should stay with Lodge? Tell us in the comments!