The Truth At Last! Brooks Reveals What Vicki Knew About His Cancer Lie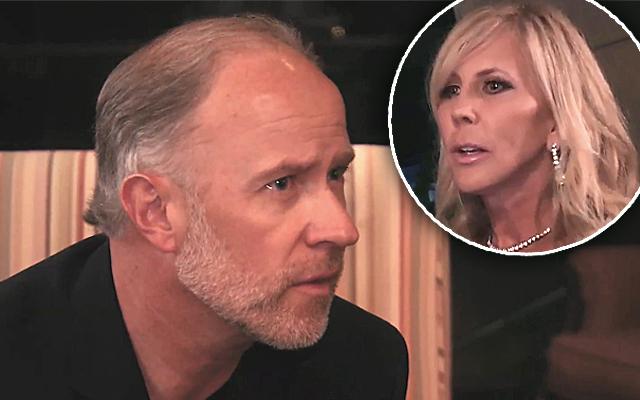 Real Housewives of Orange County star Vicki Gunvalson has adamantly defended her innocence in her estranged ex Brooks Ayers cancer cover-up, but was she telling the truth or just trying to save her job? In a shocking statement obtained by RadarOnlline.com, Ayers is finally setting the record straight!
As RadarOnline.com reported, Ayers claimed to be diagnosed with cancer prior to the filming of last season's show.
Article continues below advertisement
"At the time, I simply made a request to Vicki that we deal with this in a very private manner so as to keep out the noise of any questioning of my treatment choices moving forward. As a result, while filming continued, I began to not include Vicki in any of my medical appointments and/or details because I simply wanted to be left alone," he said.
As RadarOnline.com previously reported, Gunvalson 53, was blasted by her RHOC co-stars , who accused her on numerous occasions of lying to save face.
However, in his statement, Ayers defended his ex and said that she actually had no knowledge of what he was going through – because he didn't tell her!
Ayers said, "Vicki is a lot of things, but stupid? Hardly. A liar? Hardly."
"Vicki was not in on any cancer scam or created storyline. There is no scam. I simply didn't continue to give her information about my illness when I learned of the devious nature and intentions of the cast," he said in the statement, adding, "Vicki never has paid me to be quiet regarding this 'supposed' scam nor has paid me to release any statements."
MORE ON:
Real Housewives of Orange County
Article continues below advertisement
"Vicki is a woman of integrity and compassion, and would never lie about something so serious as this," he concluded. Ayers previously admitted that he did lie, however, when he presented fabricated cancer documents on air.
But that's not all. After Ayers released his admission, Gunvalson added to his statement with one of her own!
In her own statement, his ex-girlfriend Gunvalson said, "First of all, I would like to thank Brooks for once and for all speaking out on this, and for reiterating what I have said numerous times. Over the last year I have been bullied, belittled, and humiliated by viewers, the media, and my so called 'friends.'"
"I am not now, nor have I ever been involved in covering for Brooks. I continue to wish him nothing but the best and hope that we can both now move past this difficult chapter in our lives," Gunvalson concluded.