Exclusive
Vicki Gunvalson Gets Burned In Bitter Vodka Lawsuit!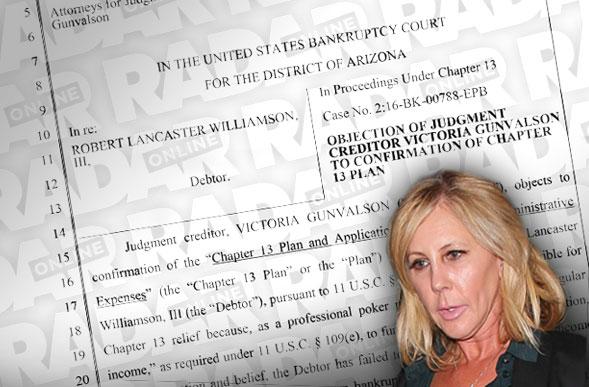 Back to court for Vicki Gunvalson!
The Real Housewives of Orange County star was never given the $132,000 judgement she won in a bitter lawsuit and she has gone back to court to fight for her money, RadarOnline.com has exclusively learned.
Gunvalson, 54, has been embroiled in a nasty legal battle over her failed Vicki's Vodka line for years. In the latest round, she is accusing her former business partner of lying about his assets in his bankruptcy case. In court documents obtained by Radar, she says he is doing that in an attempt to avoid paying her the judgement money she was awarded.
Article continues below advertisement
READ The Shocking Court Documents
Gunvalson and her ex-boyfriend Brooks Ayers were sued by their former business partner Robert Williamson — who accused them of stiffing him to the tune of $250,000 on the deal they made to launch the vodka line.
Williamson claimed Gunvalson failed to promote the line, and thus the brand never took off. In addition, he claimed that Gunvalson sold off 16.67 percent of the company to Ayers without informing him, only to have her shady boyfriend sell him back the percentage of the company when Ayers claimed he needed the money for child support and to pay the IRS.
However, Williamson claimed that after he purchased Ayers' percentage in the company, Gunvalson demanded the ownership be returned to a 50/50 split between the two of them. He claimed that Gunvalson and Ayers committed fraud, due to them knowing the reality star was going to demand the split be returned to 50/50.
In 2015, a federal court judge sided with Ayers and said the evidence did not show fraud or deceit. A judge also awarded Ayers a total of $132,641 in attorney fees from Williamson. Soon after, Ayers filed documents in the case informing the court he was transferring the rights of the judgment to Gunvalson.
Article continues below advertisement
But the money never appeared. In January Williamson filed for Chapter 13 bankruptcy, showing more than $1.2 million in liabilities and only $806,000 in assets. He submitted a plan to pay her the money in increments.
In the documents obtained by Radar, Gunvalson accuses her ex-business partner of lying about his assets in the petition on April 13, 2016, and has asked the judge to deny his offer to pay her $210 a month for 60 months.
She asked the judge to deny his relief claim, where he states that "as a professional poker player, he does not have 'regular income.'"
Gunvalson detailed his income and slammed his excuses.
"This is based on purported gross monthly income from 'self-employment' of $10,000.00," the documents state.
"This income (from playing poker and serving as a television commentator) is speculative and inexact at best, and dishonest at worst. The Debtor admits that his income for calendar year 2015 was $154,000 and for 2014 was $537,885. He also claims his monthly expenses include mortgage payments of more than $5,500 and his wife's plan payment of $1,750.00. Finally, the Debtor claims he has no non-exempt assets. This is simply not credible, given that as recently as 2014, he earned $537,885."
Article continues below advertisement
The RHOC star also claims that the pieces of jewelry Williamson listed as assets in his bankruptcy are worth much more than he says.
"Upon information and belief, the Debtor has won a bracelet in the World Series of Poker that is not entitled to be claimed as exempt and that is likely worth far more than the $700 asserted, and the Debtor's wedding band is likely worth more than the amount asserted," the documents state. "Ms. Gunvalson also believes the Debtor's other jewelry is worth significantly more than the listed amounts."
Gunvalson is demanding that Williamson's payment plan be denied and she doesn't want her $132,000 to be wiped clean as part of the bankruptcy.
Story developing.