New Testimony Reveals Joe Paterno Knew About Jerry Sandusky Child Sex Abuse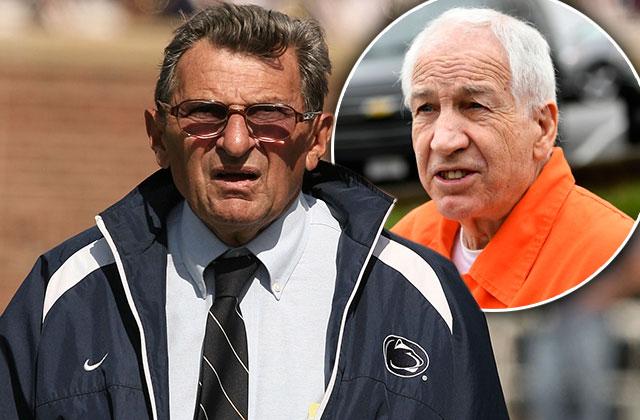 An alleged victim of Jerry Sandusky testified in court on Tuesday that Penn State football coach Joe Paterno ignored his claims of sexual abuse in 1976, when he was just 14-years-old, RadarOnline.com has learned.
Newly released court documents reveal that the man, identified as John Doe 150, was sexually assaulted by Sandusky while taking a shower. The shamed assistant coach penetrated the victim's rectum with his finger, Doe claimed in a 2014 testimony, but when he tried to talk with Paterno about the matter, his concerns went ignored.
Article continues below advertisement
"Is it accurate that Coach Paterno quickly said to you, 'I don't want to hear about any of that kind of stuff, I have a football season to worry about?'" Doe's attorney asked him during the 2014 testimony.
"'Specifically. Yes. . .I was shocked, disappointed, offended,'" the man answered, according to court papers. "'I was insulted. . .I said, is that all you're going to do? You're not going to do anything else?'"
After that, Paterno turned and walked away, Doe alleged.
The unsealed records also state that between 1987 and 1988, there were multiple assistant coaches who witnessed Sandusky's inappropriate interactions with kids.
In one particular incident, John Doe 75 claimed that in 1987, when he was just 13, assistant coach Joe Sarra walked into the team's meeting room to find Sandusky with his hands down the boy's trousers. The victim testified that Sarra quickly left the room and closed the door behind him, the Washington Post reports. Sarra passed away in 2012.
Article continues below advertisement
Sandusky, who worked under Paterno for thirty years, was convicted in 2012 on charges that he sexually abused 10 boys between 1994 and 2008. Penn State has had to dole out over $60 million to settle the dozens of civil claims stemming from Sandusky's actions during that time period.
Paterno's family has released a statement dismissing the latest revelations in the insurance case, insisting the coach, who died in January 2012, was completely in the dark about Sandusky and never covered anything up.
"Over the past four-and-a-half years Joe Paterno's conduct has been scrutinized by an endless list of investigators and attorneys," said Wick Sollers, the Paternos' lawyer.
"Through all of this review there has never been any evidence of inappropriate conduct by Coach Paterno. To the contrary, the evidence clearly shows he shared information with his superiors as appropriate."
"An allegation now about an alleged event 40 years ago, as represented by a single line in a court document regarding an insurance issue, with no corroborating evidence, does not change the facts," Sollers noted, adding, "Joe Paterno did not, at any time, cover up conduct by Jerry Sandusky."