Jerry Sandusky's Wife Makes Shocking Excuses For Child Molesting: Says 'He Showered With Kids,' But That's 'Generation He Grew Up In'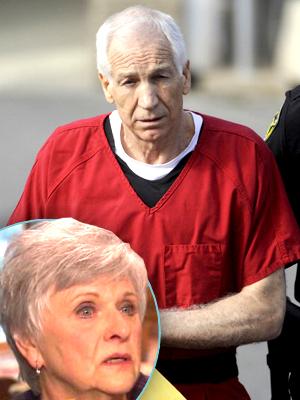 Article continues below advertisement
"I don't believe that,'' she said. "I believe he showered with kids. That's the generation that Jerry grew up in....There were always people coming in and out no matter what time that was."
She also told the morning show host that she didn't block anything out about certain situations that took place in her house.
"No, because there was nothing that went on. Because I was here. I will take you downstairs and let you see the basement. It is not a dungeon. It is not what those kids said. You can scream, and you can hear it up to the second floor."
And she said she didn't hear any screams "because he didn't scream."
Dottie sees their motivation as financial.
Visit NBCNews.com for breaking news, world news, and news about the economy
"I think it was, they were manipulated, and they saw money,'' she said about the cases.
"Once lawyers came into the case, they said there was money."
Dottie was by her husband's side during the 2012 trial and said that her own testimony was truthful because of her knowledge of the situation.
"I definitely believe him. Because if I didn't believe him, when I testified at trial, I could have not said what I said. I would have had to tell the truth."