'You Turned On Me!' Vicki Gunvalson Calls Tamra Judge A Bad Friend On 'RHOC'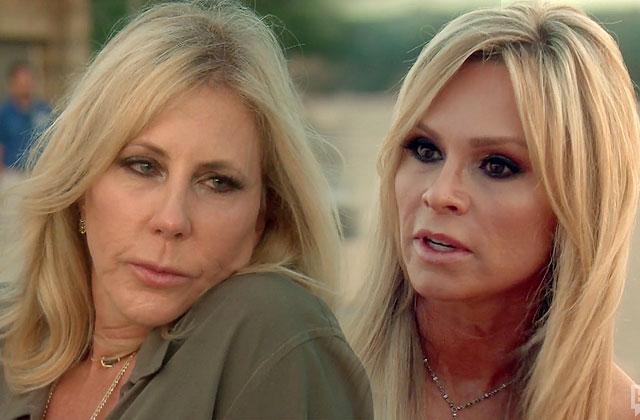 This week on the Real Housewives of Orange County, the 'Wives continue to divide into two teams: those in favor of Vicki Gunvalson and those opposed. As you can imagine, Team Vicki is still quite small.
In an attempt to right her wrongs after slamming her costars for "bullying" Gunvalson last week, newcomer Kelly Dodd planned a beach party for the whole gang.
A week before the party, Dodd met up with Heather Dubrow, Shannon Beador and Tamra Judge for some cocktails and girl talk, but it quickly turned into a shame-fest over Kelly's adamant defense of Vicki.
Article continues below advertisement
"She admitted to all of us that she lied," Dubrow said of Brook Ayers' faux cancer last season, later telling cameras that Kelly needed to "stay out of this entire situation " since she didn't know the whole story.
Meanwhile, across town, Meghan King Edmonds desperately continued her attempts at in vitro treatments, facing her worst fear in the process: lots and lots of at-home needles and shots.
Watch the Video on RadarOnline.com:
At the beach party, the 'Wives were shocked to see that Gunvalson actually came. But instead of fun and games — there was some interesting volleyball action happening in the sand — the evening quickly erupted into another catfight.
"Last year was a sh*t storm, and I'm still healing from all that," Vicki told former bestie Tamra, attempting to patch things up again. "I think that you should have been there for me, and I don't think you were. You turned on me."
Article continues below advertisement
"I didn't know that Brooks was lying to me," Gunvalson continued of Ayers' fakery. "My truth is that I believed Brooks had cancer . . . and you guys don't care. You don't care, Tamra, because you didn't like him."
"I didn't like him! I thought he was a piece of sh*t," Tamra shot back. "I was worried for you."
Watch the Video on RadarOnline.com:
"You chose him over us. Over your own daughter," Tamra reminded Vicki, finally hitting a sensitive nerve.
"You're right," Gunvalson cried in response. "I'm sorry, will you forgive me? I want to be 'us' again ."
Tamra, softening, then encouraged Vicki to apologize to the rest of the 'Wives, a juicy encounter we'll have to wait to see next week.
To find out what happens next, tune into The Real Housewives of Orange County Mondays at 9 p.m. EST on Bravo.