Exclusive
More Dr. Luke 'Abuse' Claims! Kesha's Mom Files Bombshell Court Documents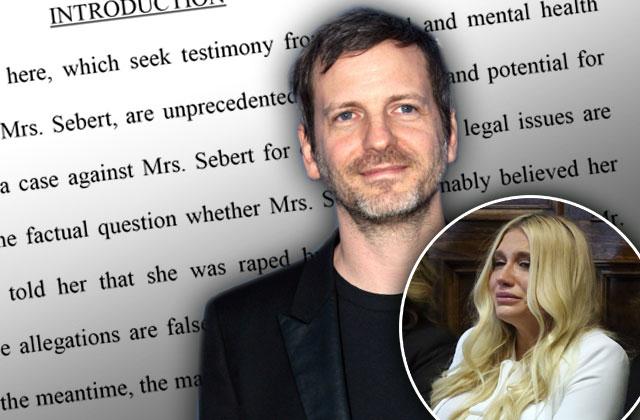 It's not just Kesha who claims that Dr. Luke made her life a living nightmare. Now, RadarOnline.com has learned, the singers mother has gone to court claiming that she has fallen victim to his "abuse!"
Pebe Sebert, the pop star's mom, filed court documents obtained by Radar, which accuse Dr. use, born Lukasz Gottwald, of "abuse" of the discovery process. The producer attempted to depose Sebert's doctors, rehab, and his legal team even grilled her about her own sexual history in a deposition, all as part of his defamation lawsuit against her.
Article continues below advertisement
The documents claim that the depositions requested are "unprecedented in their scope and potential for abuse."
Sebert previously hit Dr. Luke with a federal lawsuit in which she accused him of tormenting and abusing her along with allegedly raping her daughter. She claimed she suffers from emotional distress and post-traumatic stress disorder due to the music producer's actions and assault on her daughter. She demanded damages for the harm Dr. Luke caused her.
However, Luke fired back at Sebert's allegations that he raped her daughter, and accused the mother-daughter duo of fabricating the story to break the "Tik Tok" singer's contract.
The music producer explained that Sebert cannot sue him for things he allegedly did to her daughter, claiming she even admits that she wasn't present at the times of the alleged incidents.
What's more, Dr. Luke said that even if he did cause Sebert emotional distress, she waited too long to take him to court and filed the claims years past the statute of limitations. He demanded the entire case be thrown out of court.
Article continues below advertisement
The case was delayed while Dr. Luke and Kesha fought out their case in New York Court. The singer had been attempting to get her contract voided by the judge, but she was shut down.
Not long after, on June 5, 2016, Kesha's mother headed back to court accusing the music producer of harassing her by trying to depose her doctors and therapists in the legal battle.
"This request is incredibly broad and abusive, and if permitted by the Court could affect the willingness of rape survivors to come forward, and their families to openly support them, lest they face a well-funded defamation action," the documents state.
Many in the music industry have openly supported Kesha, including Taylor Swift who gave her a $250,000 gift to cover her legal fees.
"This is not hyperbole. Mrs. Sebert did not bring this lawsuit; Mr. Gottwald did," the documents also state.
Sebert is demanding the court block the music producer's requested depositions.
"Whether or not Mrs. Sebert received medical or mental health treatment as a result of Mr. Gottwald's abuse of her daughter does not make any fact pertaining to the two alleged defamatory statements more or less probable. Plaintiffs seek this information solely to impugn Mrs. Sebert's credibility, not because it is 'highly relevant to the central factual dispute in this action,' as their motion claims," the documents state.
Article continues below advertisement
Sebert accuses Dr. Luke of only wanting to embarrass and oppress her in the case, and points out that during her deposition the producer and his legal team questioned her about Kesha's biological father, actions taken by Kesha as a minor, Sebert's sexual history, whether Kesha is "sexually aggressive" and her daughter's dating history.
"For this reason, the Plaintiffs' request to depose physicians and therapists about a defamation defendant's most private personal thoughts appears to be unprecedented," her attorney argues.
Kesha's mother is demanding the judge ban Dr. Luke from deposing her doctors in the case.
Story developing.