Hillary Under Fire! Benghazi Victim Families Launch Blame Campaign Against Clinton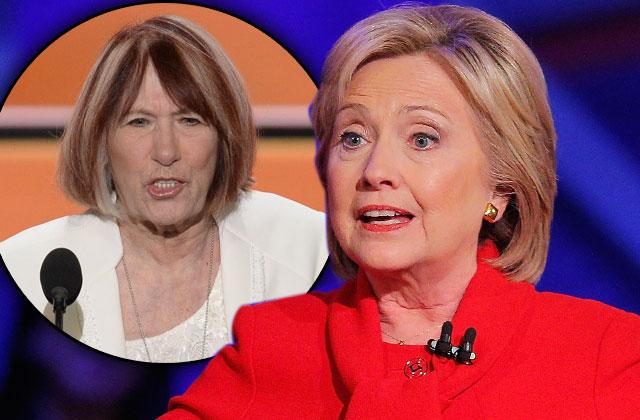 Disgusted by Hillary Clinton's attempt to cover up the Benghazi scandal, a grieving mother and widow who lost their loved ones in the attack are going public to blast Clinton and back Donald Trump!
Patricia Smith started the onslaught at the RNC last week. Her son, foreign service officer Sean, was 34 when he died in the Sept. 11, 2012 assaults by Islamic militants. She told Republican convention delegates, "This entire campaign comes down to a single question: If Hillary Clinton can't give us the truth, why should we give her the presidency?
Article continues below advertisement
"Hillary for prison. She deserves to be in stripes," she added. "I blame Hillary Clinton personally for the death of my son — personally. Donald Trump is everything Hillary Clinton is not. He is blunt, direct and strong."
Now, the widow of a former Navy SEAL turned CIA operative slain in the fighting, father-of-three Tyrone "Rone" Woods, 41, is also lashing out in a new TV ad shot by a political action committee, Great America, promoting Trump.
"My husband Ty Woods was a Navy SEAL and a fierce patriot," says Dr. Dorothy Woods, a former Navy dentist, in the clip viewed by RadarOnline.com and set to premiere tonight.
"He was killed during the attack in Benghazi while defending Americans under the charge of our State Department. When Hillary Clinton was challenged by Congress on who was to blame for the attack her response was a disgrace," she adds.
The relatives of the four Americans who died claim Hillary told them the atrocities could not have been predicted because they were carried out on the spur of the minute by demonstrators inflamed by an anti-Muslim video.
Article continues below advertisement
However, a Congressional investigation revealed that Hillary knew from the outset that the attackers were terrorists.
She is said to have concocted the video story because her underlings ignored intelligence warnings of an imminent assault and approved security cutbacks at the Benghazi diplomatic compound!
According to documents that family members have shown to RadarOnline.com, the site had been guarded by 34 armed personnel. This was slashed to just three!
After the release of the Congressional report, Hillary declared, "I'll leave it to others to characterize the report, but I think it's pretty clear it's time to move on."
"She has no right, nor does anyone in government, have the right to tell me it's time to move on. They're not in my shoes," said Dorothy.
Rone's father, retired judge Charles Woods, added, "I would love to sit down with Hillary Clinton, if she'd agree to do it as well, and at the same table by the same operator, have a lie detector test," claiming that she tried to wriggle out of responsibility for the attacks when she met him at the Andrews Air Force Base ceremony marking the return of the victims' remains.
"She said, 'We're going to have that person responsible for that video put in jail,' " he said.
The new ad will premiere during the convention tonight.