Exclusive
Chuck Norris' Son Possibly Poisoned At Movie Screening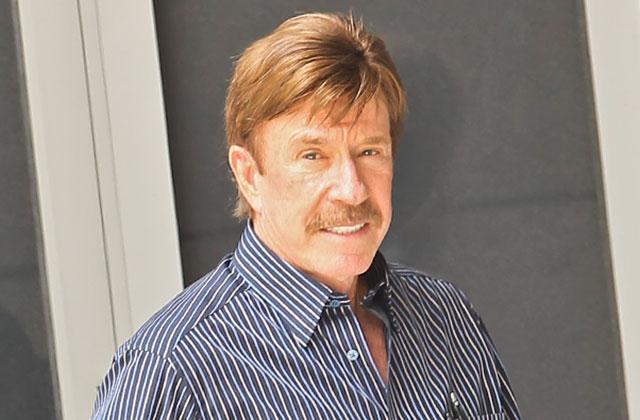 Action star Chuck Norris has been caught up in a horrifying poison plot — directed against his oldest son! Fifty-three-year-old Mike Norris, an actor and director himself, told RadarOnline.com that a mysterious man in a grey suit likely poisoned him on June 26th as a "warning" about a controversial new movie he directed – and is now screening.
"I think somebody tried to scare me," Mike said. "And it worked."
Article continues below advertisement
He's now convinced that the poison was a response to Amerigeddon, a fictional movie that details how the U.S. government engineers a power grid failure to impose martial law and seize guns from private citizens.
After a screening in Columbus, Ohio. Mike told Radar he was in the theater when the mystery man approached him and rubbed his hand on the back of his neck.
"He looked out of place," Mike said. "Everybody in the theater was in shorts and T-shirts and he's in a dark, kind of grey looking suit, without a tie. Open collar; button-down shirt. He was in his late '30s, early '40s; clean-shaven.
"He got up close behind me, brushed my neck and said, 'Interesting movie," over my shoulder.
"By the time I turned around, he was walking away so I never saw his face. I think, 'What did this guy look like"' and nothing jumps out of me. Just the gray suit because he was the only one in one."
Mike said the symptoms began during the hour's drive to Dayton for a 7:30 p.m. showing that night.
"I'm like, 'This is weird, something feels funny on my face,'" Mike told Radar. "I don't feel good. Something doesn't feel right. My wife Valerie said, 'Stop and get a Benadryl.'
Article continues below advertisement
"By the time I get to Dayton, I felt horrible and was itchy all over my face."
That night, Mike said he awoke at 3:30 a.m. His eyes were swollen shut and "pus oozed from every pore on my face."
"My lymph nodes were the size of golf balls," Mike added. "The doctor said it was 100 percent external — that I had touched my neck and spread it all over my face."
What's more, blood tests came back negative and an allergic reaction to food was ruled out because he'd only eaten cheese and beef jerky throughout the day.
"My Dad warned me," he added. "When I showed him the movie, he said, 'Be careful!'"
For now, Mike said is stepping lightly, having employed a "Chuck Norris-approved" body guard and family friend to watch over him as he continues to screen the movie.
"I would have hired my father," he added. "But I can't afford him."