Bethenny Threatens To Expose 'Incriminating' Texts About Luann's Fiancé On 'RHONY'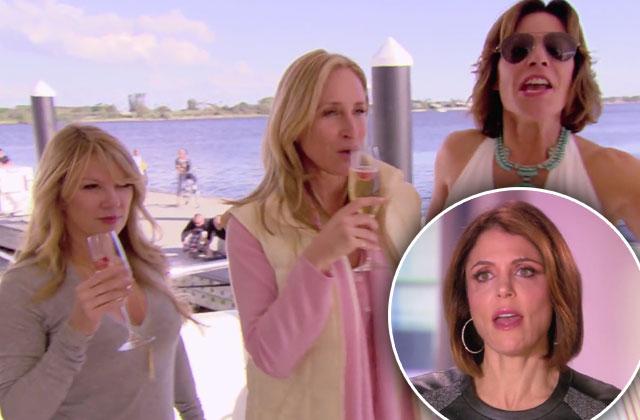 Dorinda Medley seems to relish delivering distressing news. On this week's The Real Housewives of New York City, the news is that the Hawaiian getaway has gone the way of the Mexico trip. Apparently Bethenny Frankel's health has worsened and to go on a twelve-hour flight while bleeding "profusely" would be unwise.
The compromise is that they will party in Miami instead, but some of the housewives are happier than others.
Article continues below advertisement
Ramona Singer does a privilege pout, "I go to Miami like I brush my teeth. Miami is not really a special place."
On the other hand, LuAnn de Lesseps is thrilled. "I'll stay with Tom in Palm Beach!"
Singer bristles when she hears this.
"You can't be without Tom for one night? You guys are attached at the…" and the Countess finishes her sentence, "We're attached at the penis!" and gives a hearty Countess laugh. Singer doesn't find it funny and makes an excuse to leave.
Watch The Video On RadarOnline
Singer, Medley, and Sonja Morgan join Jules Wainstein, who is shoe shopping.
"I'm going to Miami and I need a daytime shoe," Wainstein tells the salesperson. A daytime shoe is apparently a flat suede sandal?
Singer doesn't waste any time bringing up, yet again, the four or five dates (sometimes it 6 or 7) that she had with Tom D'Agostino. Morgan cringes in the background. Afterall, the Notorious D'Ag was her "f*ckbuddy". It's obvious that they aren't letting things go, at least not on this trip.
Article continues below advertisement
Soon Miami girls trip morphs into an engagement trip for de Lesseps in Palm Beach. Medley visits a recovering Bethenny Frankel at her home to deliver the news there will be a party for de Lesseps on a friend's yacht. D'Agostino Jr. will be in attendance!
Frankel will be using her vagina problems as a "hall pass" to get out of S.S. Disaster Party. It seems to be the only bright side for her. Looking pale and tired she tells Medley about her ski trip with her daughter, "I lost a lot of blood. I need to get the surgery…the fibroids are huge and need to come out."
The first scene in Florida, we get a glimpse at Wainstein's parents and their home in Boca Raton. The home is ornate, filled with Asian art and antiques. Wainstein forgets to remove her shoes and apologizes to her mother.
"Sorry, I forgot to take them off, Mom" she says like a child. "It's ok. For my daughter I can forgive," her mother responds.
Following this, they Facetime with her kids Jagger and Rio, and we get a sad glimpse at Wainstein's crumbling marriage. When Jagger gets on the phone he's crying.
Article continues below advertisement
"Mom, can you call daddy and tell him to come home?" Wainstein looks worried. "Yes I'll call him right now and tell him to come home."
The other girls arrive at the airport in Palm Beach. Morgan is literally wearing two hats. She's wearing two huge straw hats stacked on top of each other. She only travels with a small carry-on. Singer travels with a suitcase almost bigger than her whole body.
"Dorinda speaks out of both sides of her mouth and out of her ass," Morgan tells the camera. That she does, and she also "stirs the pot." This trip is no different. "When Tom was dating Lu was Lu living with you?" Medley asks Morgan. Singer is visibly angry, "He's screwing her, dating me…"
De Lesseps always looks like she's just won the lottery this season. "Sonja, we got the yacht!" she greets the girls. Morgan gets salty. She says to the camera, "It's not anything compared to my ex-husband's, but kudos to LuAnn for getting this yacht."
Watch The Video On RadarOnline
Medley, who seems to be slurring her words already, wastes no time telling de Lesseps what the girls have been saying.
"He wasn't dating Ramona. She's an idiot!" De Lesseps said, trying to stay above it. "This night is going to go off without a hitch and Ramona Singer and her stinger are not going to affect me."
Meanwhile in Miami, Frankel is lounging and talking to her friend about de Lesseps. "All summer she was so desperate. Dating all these different men…now she's engaged." Then she reveals the bombshell, "Someone sent me a series of texts so incriminating. This could possibly mean that the wedding is cancelled."
The Real Housewives of New York City airs Wednesdays at 9pm on Bravo.