'Screaming,' 'Moaning' & 'Shots Fired!' 911 Calls From Inside Club Reveal Terror Of Orlando Shooting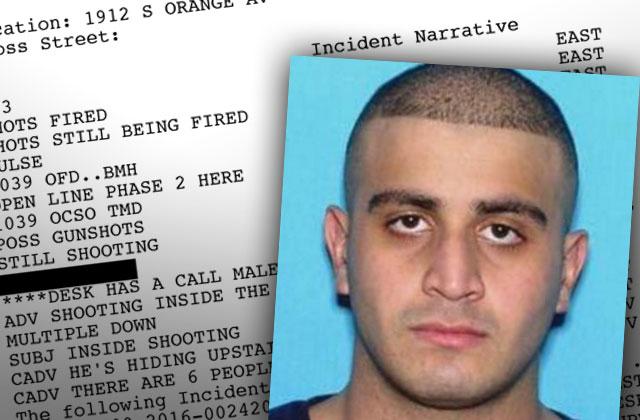 Florida officials have released a bunch of chilling documents related to the mass-shooting rampage that took place in Pulse, a gay nightclub in Orlando, RadarOnline.com has learned.
According to the disturbing incident report released on Tuesday, many victims were on the phone with 911 operators during the June 12 shooting.
"Shots fired" was heard as early as 2:02 a.m. Multiple victims told dispatchers that they saw and heard the killer, Omar Mateen, shooting and reloading his gun.
Article continues below advertisement
"Dsk has open line hearing 20-30 gunshots… heard female screaming," dispatchers reported at 2:09 a.m. Less than a second later, another said, "my caller is no longer responding, just an open line with moaning."
Around the same time an operator can hear "multiple people screaming" and someone else yelling, "I'm shot" all while active gunfire is also being reported.
Ten minutes later, callers are telling the operators that Mateen, 29, is in the bathroom with "a lot of people inside." Some of those victim's 911 calls were also recorded.
Many injuries were reported in the harrowing transcript as well as another "subj in restroom whispering 'please help,'" to dispatchers.
While in the bathroom, Mateen called 911 at 2:40 a.m. and made "pledges to the Islamic state."
"Subj is saying that he is a terrorist and has several bombs strapped to him in the downstairs female restroom," the transcript reads.
After an intense standoff, police report: "bad guy down."
Article continues below advertisement
After the shooting, Orlando officials were quick to discuss amongst themselves what went wrong. In some of the text messages released, Fire Marshal Tammy Hughes and Fire Chief Roderick Williams were seen talking about fire safety in the popular gay club.
The pair revealed that Coke machines blocked "one or two" fire exits. Hughes proceeded to tell her colleague that the club had six exits altogether which, according to the Fire Marshal, "had enough exit capacity to accommodate twice there sic occupant load."