Madonna Badger Reveals The Disturbing Truth About Deadly Christmas Fire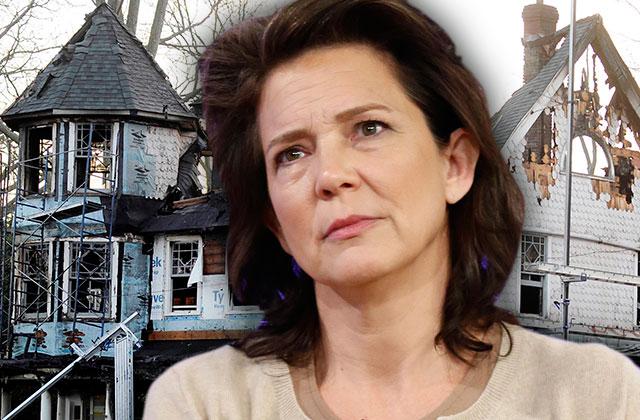 The mother who lost her three daughters and parents when a fire tore through her Connecticut home in 2011 opened up at the June 20 Cannes Lions event in France about the tragedy and its terrible aftermath.
Madonna Badger, a 52-year-old advertising executive, told the audience in an emotional talk about how she went to bed on late Christmas Eve after wrapping presents for her family but awoke gasping for air in her smoke-filled bedroom.
Article continues below advertisement
"I went to the window and I opened it and I crawled out of the window onto the roof of a porch," said Badger. Her first thought was to try to save her children, daughters Lily, 9, twins Grace and Sarah, 7. Her parents, Lomer Johnson, 71, and Pauline Johnson, 69, were also in the Stamford home, which was being renovated by Badger's then-boyfriend, contractor Michael Borcina.
Borcina now claims he lied and took responsibility for accidentally causing the fire when he unsafely left a bag of Yule log embers in a mud room.
"So I then made the impossible decision to run past my parents' window, so that I could go up the scaffolding to get to the third floor, where Grace was asleep," said Badger, who recalled she was screaming during the tragedy that seemed to last an eternity, but unfolded over just minutes. "I opened the window, but I could not get in, the smoke was as thick as gravy and the flames were as hot as the flames from hell, and I could not get in, my body would not allow me to get in."
Article continues below advertisement
Firefighters finally pulled Badger from scaffolding surrounding the house. While she was saved, her entire family was lost.
"My three children died that night, my parents also died, and I lived. I am still their mother, and I am still their daughter," she said.
Though Badger lost everything, she said she didn't lose her mind — even though she said if she had it would have been easier to cope with the ordeal.
"My hair was falling out and my skin was the grayest gray. I felt like I had been blown to bits, I had been blown to bits, I was nothing, I felt like nothing and I wanted to be nothing," she revealed.
"I kept begging God to take me, 'Why won't you take me too?' I would scream out in anguish to God to please take me too. But he wouldn't, or she wouldn't."
"I felt like killing myself many times , everybody assumed I was going to kill myself, including me. But I was too afraid, that when I got to the other side that somehow people that kill themselves go to a different place and I wouldn't be able to find my three little girls. I was afraid that I'd have to do this life over again and I was not prepared to do that," continued Badger.
"I am sure now that I am here because of the breath of a million prayers that were sent to me from all over the world … I am here because I can feel my children, I am still connected to my children, their love keeps me going, and this connection — it's different than obviously the one that we had when they were here, but it is just so strong, and some days it can even feel stronger," she added.
Badger, who co-founded the agency Badger & Winters, noted during her emotional speech that she found purpose and a "sense of dignity" in work and through her marriage to real estate broker Bill Duke in 2014, "but I saw the world through very different eyes."