LeeAnne Locken Threatens To Kill Marie Reyes For Spreading Rumor On 'RHOD'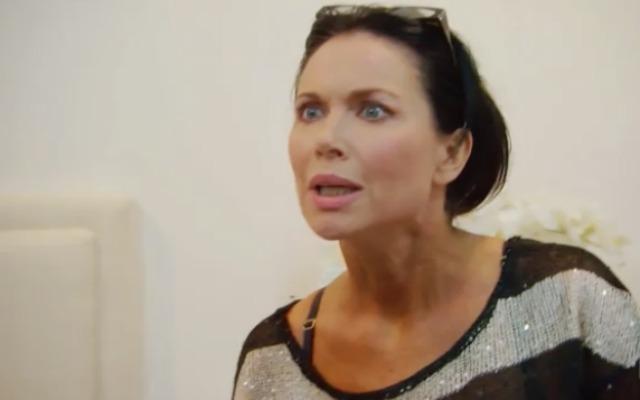 LeeAnne Locken proved she should not be crossed when she threatened to kill her co-star Marie Reyes on this week's The Real Housewives of Dallas!
While on their way to Austin, Texas for a cast trip, Brandi Redmond peed in a cup on the bus.
"That's disgusting," Locken said, as Redmond fired back, "It's better than s***ting in the back of a car in a bag!"
When Locken demanded to know who spread the rumor of her accident from years ago, Redmond revealed Reyes told their mutual friend.
Article continues below advertisement
"This was something that was very intimate between three people," she said in her confessional of the gossip that Reyes swore she didn't spill. "No one had my permission to share it so I think I'm in shock. I'm so hurt. Friends don't do what Marie is doing."
Although the women forgot about the rumor and had a booze-filled day, Locken scolded her friend off-camera once her co-stars went to bed.
"She was screaming at the top of her lungs in Marie's face telling her she was going to slaughter her. She was threatening her life," Cary Deuber said the morning after the altercation, as Stephanie Hollman added, "She's evil. I can't even explain to you how horrible it was. At one point she said she was going to go carny style and I said, 'What the f**k is that?"
But when Locken confronted Reyes in front of the women, she revealed she never threatened to kill her.
"You're mad at me for something I didn't do and then you threaten my life," Reyes said. "You threaten to friggen kill me!"
Locken responded, "What I think is killing and what you think is killing are two different things."
Reyes shot back, "You said when I don't like somebody do you know what happens? I gut them."
Article continues below advertisement
Locken explained how she meant she would gut Reyes out of her life.
"I was so hurt I couldn't even control myself," said Locken. "Haven't you ever heard someone in the street say I'm going to kill your a**? It's slang. It doesn't mean I'm going to take a knife and slit her throat."
When the co-stars took Reyes' side, Locken threatened to leave.
"That f**king Cary is going to sit there and be a judgmental s**t all she wants," Locken said. "It's not okay for me to be human, but it's okay for her to steal her man from a married woman?"
In the end, Reyes apologized to Locken.
"What I need you to know is I love you unconditionally," Reyes said. "It's not that I took the word seriously, it's the emotion behind it. I'm sorry."
Hollman said of the odd apology, "Tiffany Hendra and Marie aren't LeeAnne's friends they're her b***hes. Tiffany is the mouth and she says what LeeAnne wants her to say. Marie is the a**hole, she takes it up the a** all the time and then she asks for a hug after."
Article continues below advertisement
During dinner, Locken tried to remain silent to avoid fighting with the women, but it only infuriated Deuber.
"Why are we on our phones? Can we just talk? I feel like you don't want to be here at all," Deuber told Locken, as she replied, "Please continue to judge me Cary."
When Hendra stuck up for Locken by explaining how she didn't hear Locken scream at Reyes, Redmond accused Hendra of enabling Locken's behavior and "talking in circles."
"I think I need to talk down on people's levels because no one is getting what I'm saying," Hendra said of Redmond. "If I talk in circles it's because I want people to hear the words coming out of my mouth. Shut the hell up and listen to me."
Redmond then left the room because the argument was "so f**king stupid."
"I hate the fact I continue to try with them," said Redmond. "I'm exhausted, I'm hung over and this situation with Tiffany is ridiculous. I'm done. I'm over it."
The Real Housewives of Dallas airs Mondays at 10/9c on Bravo.