Crazy Carny! LeeAnne Locken Attacks Camera Crew After Catfight With Tiffany Hendra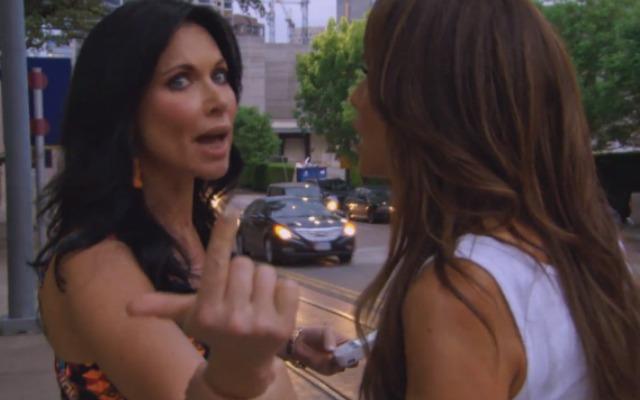 LeeAnne Locken is on the loose! After throwing a champagne glass at her co-stars, Locken lived up to her "crazy b***h" nickname by attacking Tiffany Hendra AND the Bravo camera crew on this week's The Real Housewives of Dallas.
On last week's episode, the "Mouth of the South" fought with enemy Brandi Redmond over her "inappropriate" behavior at charity events. When Locken stormed out of the cocktail party after throwing a glass at the women, Hendra followed her outside.
Article continues below advertisement
"I'm done," Locken screamed at Hendra for making her confront Redmond. "You stood there and coordinated that. You don't have my back."
Hendra fired back, "I'm in your face right now to tell you I've got your back!"
The former porn star then pushed her and screamed, "I've had your f**king back when everyone talked s**t about you and I stick up for you every f**king time."
When Locken told Hendra to stop screaming at her in front of the cameras, she refused to listen.
Locken then took matters into her own hands by hitting the cameras so the crew would stop filming.
"Stop it," she fired at the Bravo staff. "Do you hear me? I'm done!"
Locken then told Hendra before taking her shoes off and running into the street, "I don't want your f**king help!"
Redmond said of the fight, "She is a crazy b***h… She lost it!"
Later on in the episode, Locken and Hendra refused to speak to each other while at a charity event.
Article continues below advertisement
"The second Brandi started throwing flames from her mouth, Tiffany should have stood in front of me and said, 'No, stop it little b***h,'" Locken said in her confessional.
But the feud didn't last for long, as Hendra asked her longtime friend to resolve their issues at lunch.
When Locken apologized, Hendra responded, "We love each other. We are a safe haven for one another. I'm sorry I yelled at you like that."
Locken said in her confessional, "I'm always going to be in her corner… I'm always going to be team Tiffany and she's always going to be team LeeAnne because for so long we were all each other had."
Also on the episode, Redmond met her grandfather for the first time after a family feud kept them estranged.
Although the meeting went well, the mother-of-two was upset that her husband Bryan, who travels often for work, wasn't there to meet her grandfather.
Article continues below advertisement
When Redmond threw a barbeque with the whole family so her husband could meet him, he showed up late and drunk.
"I'm speechless that Bryan is at a bar with Travis Hollman knowing he should be here with me," she said in her confessional. "I planned this barbeque in between Bryan's business trips so he could be here."
When Redmond tried to talk to her husband throughout the barbeque, he ignored her.
"Bryan is one of those people that kind of puts up a wall to me," she said. "So that's disappointing. All I can think is, 'You're the biggest douchebag that I know right now and you're sleeping on the couch.'"
The Real Housewives of Dallas airs Mondays at 10/9c on Bravo.