Dallas Housewife LeeAnne Locken Reveals She Was MOLESTED After Being Abandoned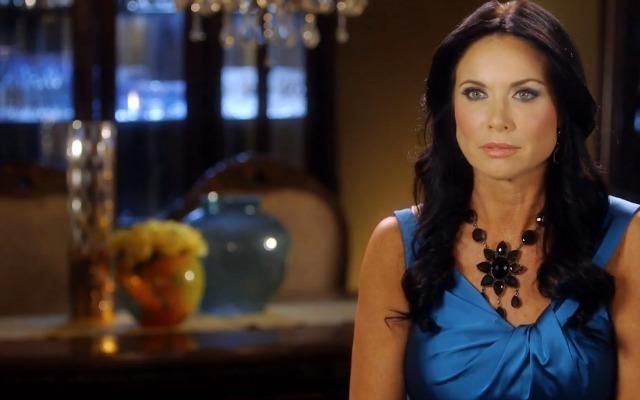 Growing up on the carnival circuit wasn't all fun and games for LeeAnne Locken. On this week's The Real Housewives of Dallas, the "Mouth of the South" revealed she was molested as a teenager.
Although Stephanie Hollman has feuded with Locken before, she agreed to attend an AIDs charity event to support her as the keynote speaker.
"As a child, I had a lot of labels," Locken began. "When I was 3 years old I was abandoned by my mother. My label was not worthy. When I was a preteen, I was molested by my best friend's father. My label was not valued. When I was a young woman the one and only person I've ever been engaged to tried to kill me. My label was not loved. HIV is a disease, it's not who you are, it is not your label."
Article continues below advertisement
Although Hollman called Locken a "self-absorbed, narcissistic person" on last week's episode, she admitted to being "really impressed."
"I saw a very different side of her that I have not seen before," Hollman said.
When Hollman broke the news to Brandi Redmond that she would be inviting Locken to her husband's birthday party, Redmond reached out to her enemy to resolve their issues.
"I've taken some time to really reflect on everything you have gone through and I really wasn't aware that you share your story to impact lives," Redmond said over lunch. "My humor is very silly and immature and I know how to push people's buttons to a level that sometimes is not okay and for that I apologize."
Locken responded back, "Every time I sat down with you I didn't respond in the best manner and you're right. You pushed buttons no one has pushed in a long time."
But Redmond wasn't pleased by her response, as she slammed in her confessional, "Was that an apology back? Not really."
Before Locken and Redmond made their first public appearance together post-"apology," Hollman's husband Travis questioned whether or not his wife would be capable of throwing his birthday bash.
Article continues below advertisement
"Sometimes I feel like you try to micromanage," Hollman told her husband after he demanded she bring his personal assist with her to look at venues. "I feel like you treat me like a child. I'm a grown woman and I can make decisions."
He responded, "It's hard for me to do. That's what my mom did. It's hard to not micromanage because we were micromanaged."
When Hollman explained how she doesn't need the "added pressure" from him that she already puts on herself, he responded, "I understand. We grew up differently."
But the Gatsby-themed party went off without a hitch, as even Locken and Redmond got along!
When the former enemies laughed over poop stories, Redmond said in her confessional, "We all know how much I love a good poop story, you s**t too!"
But the blowout wasn't completely drama-free, as Cary Deuber was informed Redmond would be throwing a getaway to Austin, Texas with all of the women, including Locken.
"I want to go to Austin with Brandi and Stephanie, I don't want to go to Austin with anyone else," she said after fighting with Locken on last week's episode. "You keep your friends close, your enemies closer."
The Real Housewives of Dallas airs Mondays at 10/9c on Bravo.