Presidential Election 2016
Top Clinton Aide Claims Embassy Attack Caused Email Snafu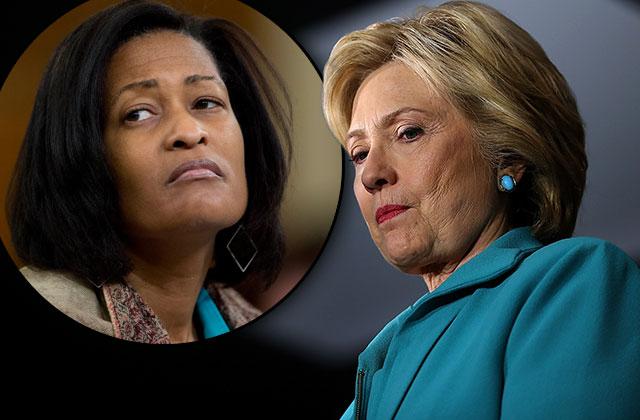 Hillary Clinton critics often blame her for the 2012 Benghazi attacks. But now, her former chief of staff has flipped the script, and is claiming that the incident was a key factor in creating the presidential candidate's ongoing email scandal!
The deposition of Clinton staffer Cheryl Mills was released on Tuesday, and it revealed more information about Clinton's time as secretary of state. Mills admitted that she and her team were too distracted by international events to sift through Clinton's records to make sure they remained in the department, as required by federal laws.
Article continues below advertisement
One of those distractions was the 2012 Benghazi attack on two U.S. compounds, which took the lives of Ambassador J. Christopher Stevens, Information Officer Sean Smith, and two CIA operatives. Mills said there was "a lot going on" at the time.
"The secretary was not only transitioning, there had been a — we had lost our first ambassador in quite some time, and we were stepping through the sets of issues associated with that," Mills said. "And she, too, had fallen ill, and there — and there had been a period of time where we were obviously navigating a whole set of issues in that space…So I don't now that this was something that I focused on, and certainly I wish I had."
Article continues below advertisement
When Judicial Watch asked if Pagliano was an "agent of the Clintons," one of Mills' attorneys, Beth Wilkinson, said "I'm going to instruct her not to answer. It's a legal question."
The transcript shows many times in which Mills' legal team objected to the line of questioning issued by the conservative watchdog group.
Though Mills did answer a question about when she spoke to the IT specialist about setting up the server.
"I know I spoke with Mr. Pagliano about the setup of the server during the period in which I was representing Secretary Clinton, which would have been after two thousand -- which would have been post her departure from the State Department," Mills said. "At least that's my best recollection."