Hillary's Top Aide Trying To Block The Release Of Her Deposition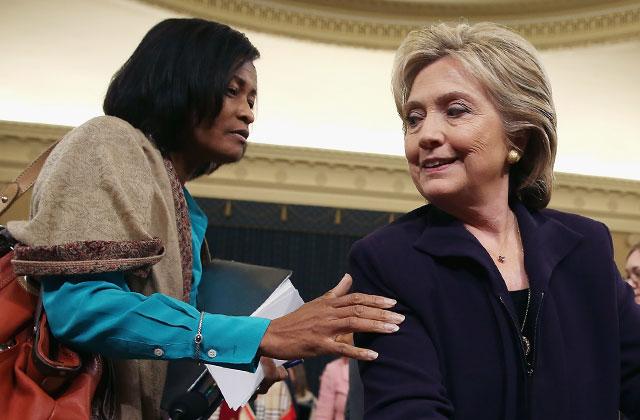 The former chief of staff under Hillary Clinton is requesting that video of her upcoming deposition be sealed from public view.
Lawyers for Cheryl Mills filed a motion in federal court on Wednesday asking the court to ensure that the video of Mills' deposition regarding Clinton's private email server will remain private. They said that Mills "supports the release of the written transcript of her deposition to the public. But no additional public interest would be served by the publication of the audiovisual recording."
Article continues below advertisement
Judicial Watch is the conservative group who sought the deposition from Clinton and her aides in a Freedom of Information Act lawsuit. Mills fears that releasing video or audio from the deposition could help the watchdog group promote an anti-Clinton agenda.
Radar recently spoke with Tom Fitton, Judicial Watch President who said of their investigation, "The more we learn about the email scandal, the worse it looks!" Fitton also said that what they learned was "going to be embarrassing to Mrs. Clinton and the administration — maybe more than embarrassing."
Mills' attorneys wrote in a motion submitted to U.S. District Court Judge Emmet Sullivan that they are "concerned that snippets or soundbites of the deposition may be publicized in a way that exploits Ms. Mills' image and voice in an unfair and misleading manner."
They went on to say that Mills "is not a party to this action. She is a private citizen appearing voluntarily to assist in providing the limited discovery the Court has permitted. ... Judicial Watch should not be allowed to manipulate Ms. Mills' testimony, and invade her personal privacy, to advance a partisan agenda that should have nothing to do with this litigation."
Article continues below advertisement
Judicial Watch was granted permission by Sullivan to interview Mills and other aides. Mills' deposition is scheduled for this Friday and Sullivan is giving the conservative watchdog group until noon on Thursday to offer a formal response to Mills' request.
In addition to Judicial Watch's lawsuit, the Clintons have been facing mounting scrutiny for Hillary's email scandal, Bill's sex scandals, and the Clinton Foundation's allegations of fraud.
Sullivan has also left the possibility of calling Clinton for a deposition open.