Presidential Election 2016
Clinton Accused Of Using Donations To Silence Bill's Victims!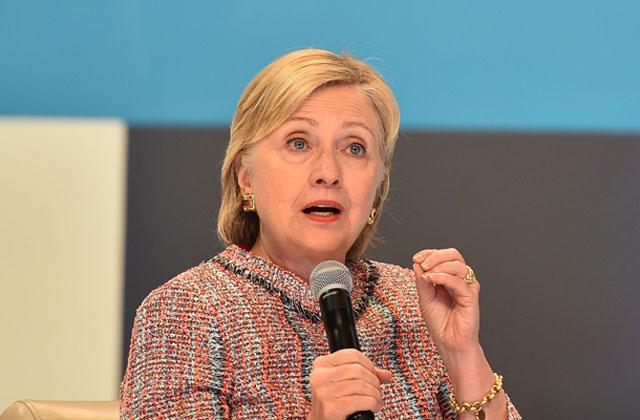 Hillary Clinton used money from unsuspecting donors to bankroll her fat cat lifestyle! That's the shocking claim from a new book that promises to tear apart the Clinton's web of secrecy and lies.
Partners in Crime details how the Clinton Foundation, an institution intended for philanthropic causes, is actually a "vast, criminal conspiracy" regularly duping donors.
The Daily Mail reported author Jerome Corsi's claims that money intended to aid earthquake victims in India and Haiti and people who suffer from HIV/AIDS around the world instead found its way back to the Clintons.
Article continues below advertisement
Corsi writes that the Clintons seem to be using their foundation as a "personal piggy bank," the Daily Mail reported.
The author also says that some of the money from the foundation was used to pay off people who knew first-hand of Bill's notorious sexual behavior. These payments included $25,000 to the Arkansas Bar Association for lying under oath about his affair with Monica Lewinsky and $850,000 to drop her sexual harassment lawsuit against him, Corsi claims.
Hillary's longtime aide, Huma Abedin, has also benefited from the donations, according to the book. Though she's now under fire for her role in Hillary's ongoing email investigation, Abedin was paid handsomely for her work as a contractor for the Clinton Foundation and later she received $135,000 in government pay when she served as a part-time consultant for Hillary, Corsi writes.
The Daily Mail also reported that the foundation paid for daughter Chelsea's lavish retreat in Amanyara Resort on Providenciales Island in Turks and Caicos, one of the most exclusive and expensive vacation spots. Vacationers pay $1,500 a night in the off-season and $34,000 during the busy season.
Article continues below advertisement
This isn't the first time the Clintons' bookkeeping has come under fire.
Radar previously reported claims from Charles Ortel, a financial analyst who identified major holes and financial inconsistencies within the Clinton Foundation's finances. Ortel said he spent a year scrutinizing over public records and tax filings from various Clinton Foundation projects. Based on his findings, he believes the Clintons were operating under charity fraud. In particular, Ortel says money from the charitable funds donated for the earthquake relief in India went missing.
Clinton's camp has denied any wrongdoing.