Reptile Rampage! 383 Florida Gator Attacks Exposed In Horrifying Report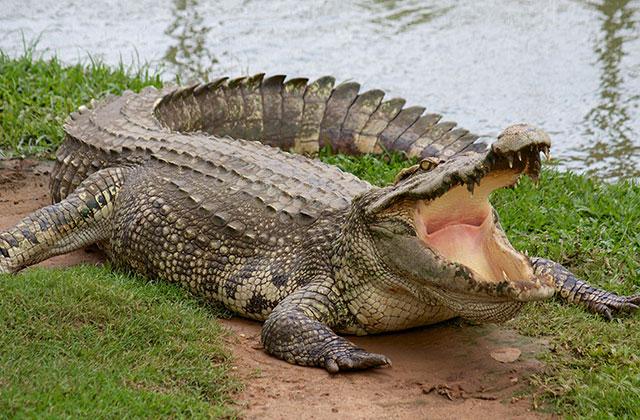 The brutal gator attack that killed Nebraska toddler Lane Graves shocked and horrified the world. But RadarOnline.com has learned it was hardly the only bloody incident to wreak havoc on the sunny shores of Florida waterways. According to state records obtained by RadarOnline.com, killer gators are a growing problem!
Since 1948 there have been 383 alligator attacks in the Sunshine state, according to Florida Fish and Wildlife Conservation Commission documents exclusively obtained by RadarOnline.com.
Article continues below advertisement
The documents state that 23 of those attacks have been fatal, while 257 incidents were categorized as "major" – meaning that the victims' injuries were so severe, they required medical attention.
Although the records have not been updated to account for the horrific death of two-year-old Lane Graves, the most recent death recorded happened just last year.
"James Okkerse, 61, was killed while snorkeling in Blue Spring Run in Orange City on Oct. 19, 2015," the report states. "The 12' ½" male alligator responsible for the attack was captured and destroyed."
Before that, the most recent death took place in 2007, after Justo Antonio Padron, 36, was snatched by an alligator in west Miami.
"Eyewitnesses watched as Padron disappeared under water, while trying to elude police. His body was later recovered at the bottom of the pond by divers," the report says.
Three fatalities occurred in 2006 and 2001 — the two deadliest years on record.
Yovoy Suarez-Jimenez, 28, and Judy Cooper, 42, were both killed in 2006. The circumstances of their attacks are unclear because there were no witnesses. Annmarie Campbell, 23, was fatally attacked by a nearly twelve-foot gator in May of that year, the report says.
Article continues below advertisement
In 2001, 2-year-old Alexandria Murphy was killed in Polk County after she wandered away from her backyard. Other details on this incident were not recorded.
According to the New York Times, such incidents are on the rise due to growing development in the state's swampy central regions.
As RadarOnline.com previously reported, Florida's gator problem came into grave focus this week as Nebraska toddler Lane Graves was snatched and killed by a gator at Disney's Grand Floridian resort.