Exclusive
Look Out, Mickey: Lawyer Says Parents Of Tot Killed By Disney Gator Could Sue!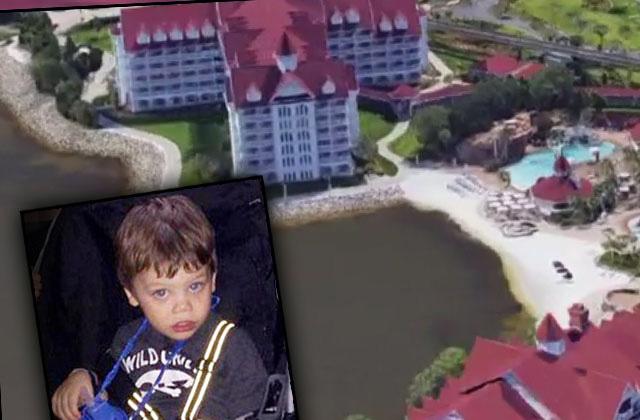 The killing of a two-year-old boy by a giant alligator could cost the Walt Disney company "eight figures and up" in damages, a top lawyer predicted in an exclusive interview with RadarOnline.com.
"This family can bring a wrongful death suit against the Walt Disney World Corporation if they had actual or constructive knowledge of a dangerous condition on their premises," Orlando attorney Matt Morgan told RadarOnline.com. "It easily will be an eight-figure case, based on the pain and suffering these parents will experience over their lifetimes."
Article continues below advertisement
As RadarOnline.com reported, two-year-old Lane Graves was snatched by the beast while playing in the water at the resort Tuesday night.
"The damages will go up and up and up if there turn out to be aggravating factors," Morgan said. "For instance, this lagoon has a white sandy beach with chairs set out on it, looking very inviting to visitors, and there is no perimeter fence."
"Is the reason that there is no fence is that aesthetically it would have looked terrible even though alligators had been extracted from the park in the past?"
Indeed, Morgan, who is famed for slapping theme parks with liability cases, revealed he has deeply personal reasons to suspect Disney didn't do enough to protect the child from the nearly seven-foot-long monster that snatched him at the man-made Seven Seas Lagoon.
"I got engaged on the lake's dock on October 28, 2013, and I did not see any signs warning of alligators when I walked my fiancée there," Morgan told RadarOnline.com. Signs posted near the lake warn against swimming, but the resort reportedly still has no notices about gators.
Article continues below advertisement
Morgan added that the parents had a right to assume that Disney had taken "every measure to protect them" and, as out of state tourists, they "could not in their wildest nightmare imagine that there was an alligator large enough to take their son."
For Floridians, however, it's an all-too-common issue. There are an estimated 1.3 million alligators in the state, and the Florida Department of Environmental Protection posts warning signs about alligators near swimming areas and walkways in its parks.
Official records show this was the first alligator attack at Disney World in its nearly 50 years of operations. However, Morgan argued that authorities knew gators were a potential risk there. For instance, Nick Wiley, executive director of the Florida Fish and Wildlife Commission, said after the attack that his agency works closely with the theme park to remove any "nuisance alligators," or gators that are at least four feet in length and could pose a threat to people, pets or property.
Article continues below advertisement
Wiley said he didn't know how often his agency actually has hauled nuisance gators from the park, and he wasn't able to provide an estimate for how many live in the waters on Disney property. A local sheriff said there had been no recent reports of any nuisance alligators in the area, but questions about their presence in the lake will be part of the ongoing investigation.
"There isn't a waterway in Florida that doesn't have an alligator in it," said Kenneth Krysko, herpetology collections manager at the Florida Museum of Natural History, and an expert on the state's alligators and crocodiles.
During the mating season, which Krysko said just ended, is when most attacks occur. Big males become very territorial, and smaller males like the one suspected of taking the 2-year-old scatter to smaller bodies of water to feed. The hour of the attack, about 9 p.m., is an optimal time for feeding. "Yes, that is the time of day that alligators are coming out and feeding. People are at the surface, splashing around. It's just so sad because you have a 2-year-old, which is very small. A four-to-six-foot alligator can view that as prey. An animal would have no problem getting such a child."