Blake Lively Slams Woody Allen Rape Jokes, Calls The Director 'Empowering'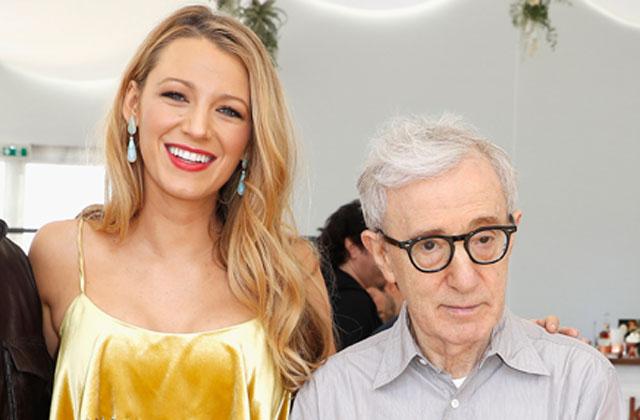 Blake Lively may gain some more enemies this week after defending Cafe Society director Woody Allen regarding his past sex abuse scandals.
In fact, despite Allen's controversial reputation when it comes to women in Hollywood, Lively even called the film veteran "empowering."
"It's really cool to work with a director who's done so much because he knows exactly what he wants," the 28-year-old said in an interview with Hamptons magazine. "The fact that he does one shot for an entire scene — and this could be a scene with eight people and one to two takes — it gives you a level of confidence because when he's got it, he knows he's got it."
Article continues below advertisement
PHOTOS; Secret Children, Rehab & Rape Claims: What To Expect On The New Season of 'Teen Mom OG'
"He also is really encouraging as to why he cast you, so he'll say, 'Say the dialogue that's written and then you can improvise for a while.' And his dialogue is so specific, and it's speaking in a 1930s dialect and with period references, so it's intimidating to think, Oh, let me just improvise there and hope that my words blend seamlessly alongside Woody Allen's," she continued. "Which they clearly wouldn't and don't. But he's very empowering."
The actress, now pregnant with her second child with husband Ryan Reynolds, then slammed comedian Laurent Lafitte, who made a controversial rape joke about Allen during the Cannes Film Festival opening ceremony last month.
"I think any jokes about rape, homophobia or Hitler is not a joke," she told Variety on May 12. "I think that was a hard thing to swallow in 30 seconds. Film festivals are such a beautiful, respectful festivals of film and artists and to have that, it felt like it wouldn't have happened if it was in the 1940s. I can't imagine Fred Astaire and Bing Crosby going out and doing that. It was more disappointing for the artists in the room that someone was going up there making jokes about something that wasn't funny."
Article continues below advertisement
Lively may find little support from the ladies, however, as actresses like Lena Dunham have spoken out against Allen many times in the past.
"Woody Allen is proof that people don't think everything he says in his films is stuff that he does, because all he was doing was making out with 17-year-olds for years and we didn't say anything about it," Dunham previously said of the director. "And then he did it — a bunch. No one went that Woody Allen is making out with a 17-year-old in Manhattan and I guess he's a real perv; and then lo and behold."
To make matters worse, Allen's possible transgressions were in the news after his stepdaughter, Dylan, wrote a NYT piece accusing him of sexually assaulting her. (Allen denied the claims.)
Do you think Blake is wrong for supporting Woody Allen? Let us know in the comments below!