Bethenny Frankel Blasts 'Hypocrite' LuAnn De Lesseps For Her 'Bullsh*t' On 'RHONY'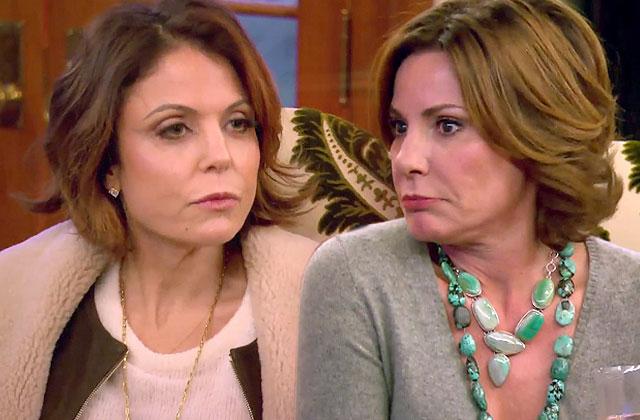 Jules Wainstein's father is ill and hospitalized when Episode 9 of The Real Housewives of New York City begins, but no one seems to notice or hear her concerns because it's battle time in the Berkshires.
Dorinda Medley has thrown yet another cursed party, and though she went out of her way to exclude the poor Prosecco Princess, Sonja Morgan, drama comes along anyway — with a plus one. Bethenny Frankel arrives at Medley's Berkshires home hot and bothered, an amazing accomplishment considering Medley decorated as if they were in North Pole.
Article continues below advertisement
The fight starts, as most fights do, over a haircut. LuAnn de Lesseps (be cool!), makes an already irritated Frankel see red — and not just because of all the fake Santas strewn about the house. The Countess dishes a catty remark about Frankel copying her bob (we can all agree it's the same haircut) and, as we saw in the last episode, resurrects an old argument, from circa 2009, about how she had something to do with the Skinnygirl Margarita brand.
"Let's go back on the delusional Skinnygirl tour, hosted by Luann!" Frankel muses as producers take us on a tour of RHONY clips from previous seasons, where it's evident that LuAnn has nothing to do with the Skinnygirl brand — but she can take credit for having that haircut first.
Hitting every target, drama sharp-shooter de Lesseps asks Frankel who she's dating, setting Frankel off on a slut-shaming tirade that could make Amber Rose weep. First, Frankel brings up de Lesseps current boy-toy, Tom, and gets Ramona Singer involved in the process. The beef there is that Singer went on either 1 or 6 dates with this "man about town" (depending on who tells the story) and the Countess really should have called her before seeing him.
Article continues below advertisement
But Frankel explains in confessional that she avoids the subject at all costs: "Anything but telling LuAnn who you are actually dating…And God forbid you tell LuAnn your boyfriend has a big penis…she's like a plastic f*ck doll."
Then, de Lesseps asks Frankel her favorite question: "What's your problem with me?"
"I'm sick of the way you live. You're a hypocrite...you're not a girls girl," Frankel responds, dishing a stream of insults so sharp that she must have had them prepped for delivery. "What married man have I ever slept with? What young 25 year-old have I f*cked and then gave my friend shit about it? You are a hypocrite. You f*ck everyone and pretend that you don't. I don't care if you're the biggest whore in Macy's window but you pretend that you're appropriate. I'm calling you out on your bullshit because no one else has the balls to do it."
And if that weren't enough, Frankel adds: "You are a slut and a liar and a hypocrite and a snake."
Watch The Video On RadarOnline
Meanwhile, all de Lesseps can muster after Franekl's tirade is calling her a "Bayyotch," which was just really awkward and sad.
As one would expect, visibly upset de Lesseps walks the halls of Santa Claus' second wife's home, even threatening to leave. Singer, either wanting more screen time or just simply feeling bad for de Lesseps, comes to her aid and they start getting giddy.
Article continues below advertisement
In an unexpected turn of events, de Lesseps starts making fun of Medley's birthday cake that her mother gave her. "Is this Dorinda's non-birthday? Hello? The cake says Happy Birthday Dorinda."
Not amused, Medley starts screaming and shaking vodka bottles at de Lesseps and everyone who is listening: "My mother bought this on Saturday. I put in a big effort and this is my home and I made a conscious choice to not invite Sonja so we would all have a good time. I think it's a disgrace of you people. I cooked all day! I decorated! I did it nice! I'm ashamed. If no one can behave themselves then you can all go home."
But of course, nobody did. Medley eventually calms down and takes a vodka bottle to one of her many bedrooms.
Watch the Video on RadarOnline.com:
To top it all off, de Lesseps goes on an apology texting tour with Singer. She sends a half-hearted apology to Frankel over the Skinnygirl drama, admitting that she might have "miscommunicated" during their conversationg.
She then sends Carole Radziwill an apology that reads, "Sorry I called you a pedophile." Needless to say, it was not de Lesseps finest moment.
Speaking of finest moments, one part of this explosive episode we break from the Berkshires and go with Sonja Morgan, who is having a vaginal rejuvenation procedure involving a probe. "The only thing worse than trout mouth is trout snatch," Morgan tells the cameras with a big smile.