Exclusive
No Justice For Marilyn! FBI Let Kennedys Get Away With Monroe's Murder — 'National Enquirer Investigates' Reveals How!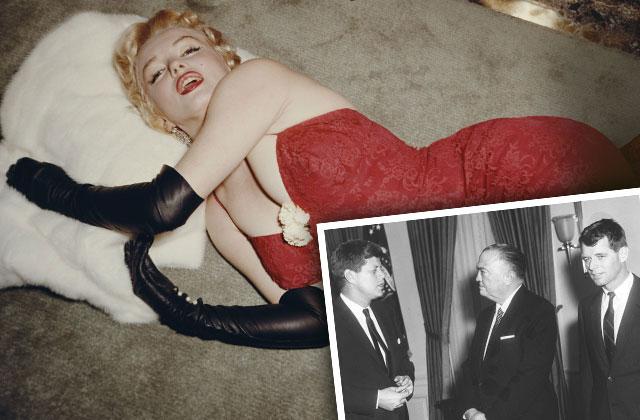 Even in death, tragic Marilyn Monroe was used by powerful men for their own selfish desires! FBI documents uncovered in the new REELZ Channel series National Enquirer Investigates make it clear that America's top law enforcement officer, J. Edgar Hoover, knew all about the Kennedy brothers' involvement in the troubled beauty's chilling end. But Hoover let Jack and Bobby get away with murder — to save his own skin!
Article continues below advertisement
The amoral FBI director used Monroe's eyes-only dossier, wiretaps and secret surveillance films to blackmail the Kennedys and force them to let him keep the powerful post he'd held since 1924. Washington sources say that both brothers were determined to force out Hoover following Kennedy's 1960 election triumph. But Hoover was wise to their plan — and one step ahead of the Kennedys.
In his book, Crypt 33: The Saga of Marilyn Monroe — The Final Word, private investigator Milo Speriglio reveals the Machiavellian bureaucrat put the squeeze on the brothers right after Jack settled into the Oval Office.
"Hoover dropped a thick file on the president's desk, demanding that he and his brother read it immediately," writes Speriglio. "The file contained a stack of photos, which included clandestine film of Marilyn Monroe with each of the Kennedys. Needless to say, the subject of retirement was dropped."
But Hoover didn't just keep his job. His implied threat allowed him to expand his power in a vicious turf war with the Central Intelligence Agency. And Monroe's cruel murder only consolidated his grip on the Kennedys, who knew he could destroy their political careers and family with a well-placed leak or public investigation. However, Hoover was vulnerable, too.
Article continues below advertisement
"The Kennedys insured the FBI director's silence with a file of their own containing sworn statements and photos exposing Hoover's homosexuality and his affair with his 'deputy' Clyde Tolson," says a Washington source. "It became a Mexican standoff."
So Hoover kept his end of the bargain, publicly deflecting inquiries from journalists and civic leaders who'd gotten wind of the Monroe scandal after JFK's assassination. After Bobby was murdered while campaigning in California in 1968, Hoover used his files to muscle the youngest Kennedy brother, Ted, who had his own White House dreams. Hoover kept the pressure on Teddy — with threats to destroy the Kennedy legacy — right up until he died in 1972 at age 77!
After his death, Hoover's office was scrubbed clean. His secret blackmail files were confiscated and supposedly destroyed, including all the private information on Monroe's death.
Insiders say the scope and breadth of the Monroe-Kennedy dossiers was staggering, and contained details government agents deliberately hid from Dr. Thomas Noguchi, the L.A. coroner who conducted the beauty's autopsy. Those facts proved Marilyn didn't commit suicide.
Article continues below advertisement
Acting U.S. Deputy Attorney General Laurence Silberman is said to be the first person to inspect the secret files after the G-man's death. Silberman told an associate: "J. Edgar Hoover was like a sewer that collected dirt. He was the worst public servant in our history" and he let the monsters who murdered Monroe go unpunished.
Look into the secret files of the most feared newsroom in America — as The National ENQUIRER exposes the real story behind Hollywood's wildest scandals and sensational crimes in National Enquirer Investigates! The first episode of this shocking new series delves into the troubling death of screen goddess Marilyn Monroe. Was her "suicide" really a murder? And what did the FBI know?