Kim Kardashian Wears Necklace Nicole Brown Simpson Gave Mom Kris Jenner In 1988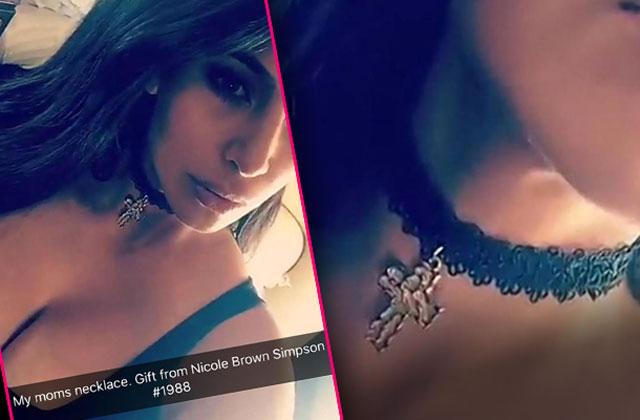 Kim Kardashian is going back to her roots this week when it comes to fashion.
The 35-year-old posted videos to Snapchat on Saturday, wearing a black lace choker with a cross. She later revealed that the religious necklace was given as a gift to mom, Kris Jenner, from the late Nicole Brown Simpson in 1988.
"My mom's necklace," she captioned one snap. "Gift from Nicole Brown Simpson #1988."
It's been 22 years since Simpson was brutally murdered outside of her Brentwood, Calif. home, and Jenner still feels heartbroken over the tragic loss.
Article continues below advertisement
Watch the Video on RadarOnline.com:
During a recent interview on the Ellen DeGeneres Show, the 60-year-old confessed that news of the murder "really surprised and shocked" Nicole's friends at the time, who were all unaware of ex-husband O.J. Simpson's violent episodes behind closed doors.
"We felt like we really failed her as a friend," the Keeping Up With the Kardashians star told Ellen. "You know, you go through this and you discover things about somebody, and it was horrible."
"She and I were supposed to have lunch the day after she was murdered," she recalled. "She said she wanted to show me some things and talk about what was in her safe. So now, unfortunately, it all makes sense. That's probably what she wanted to reveal to me that next day, which broke my heart because I will always feel horrible that I didn't pay enough attention."
Of course, O.J. was famously found "not guilty" of the crime in 1995, though evidence at the scene of the crime pointed back to the retired NFL star. However, he is currently serving 33-year sentence in Nevada for armed robbery, kidnapping and several other felonies.