Exclusive
OJ's Ex-Lover Terrified She'll 'End Up Like Nicole' If He's Released From Jail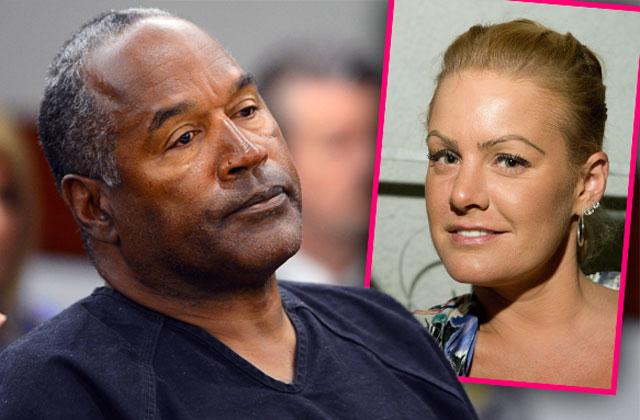 O.J. Simpson's former gal pal Christie Prody has revealed the disgraced football great repeatedly confessed to murdering his ex-wife, Nicole Brown Simpson and her pal, Ron Goldman. Now, RadarOnline.com has learned, Prody is terrified she'll end up dead like his ex-wife!
A dead ringer for the victim, Prody dated Simpson on and off for 13 years beginning in 1995, a year after the vicious slayings.
While he was acquitted at his infamous trial, now being reprised on the FX TV miniseries The People v. O.J. Simpson, Prody told RadarOnline.com that Simpson admitted to being a murderer countless times during "marathon cocaine binges."
Article continues below advertisement
"O.J. killed Nicole," insisted the 40-year-old beauty. "All during the course of our relationship, O.J. was confessing by telling me details only the killer would know."
Simpson, 68, also "maniacally" re-enacted scenes from his murder trial — and even pretended to cross-examine witnesses!
Shockingly, the Juice blamed Brown Simpson for her own death — and told Christie that his ex pushed his buttons and "drove him crazy."
The coked-up jock blamed the bloodbath on two men, she recalled. But his detailed descriptions made her see he was talking about himself, she explained in the bombshell exclusive interview.
Prody also told how during his rants about the crime, he'd refer to himself in the third person — "saying, 'O.J. did this' or 'O.J. did that.'"
Simpson even described to her how Goldman was slaughtered with a knife after seeing Brown Simpson's blood all over the steps in her backyard.
Article continues below advertisement
"Finally, Goldman slumped over with his eyes open," she said Simpson chillingly told her.
Prody also confessed she's living in terror that Simpson will be sprung from prison next year and stalk her like he did Brown Simpson. "My worst fear is that I will end up like Nicole — killed by O.J. because he can't let go!" she said.
Prody has good reason to fear the jealousy-riddled control freak. Simpson reportedly savagely battered his ex-wife and mentally abused her.
Now Prody has revealed that before he was jailed in 2008 for armed robbery and kidnapping, Simpson also viciously beat her. She was once found unconscious with a head wound and bruises at a Miami gas station. At the time, she was 32 and he was 60.
Prody claimed not to know what happened — "but her friends believed Simpson was responsible," according to a source.
"I will always love him," she admitted. "O.J. is so arrogant. I have no doubt he believes he could get away with murder a second time."