'Atrocious, Cruel & Monstrous!' Manson Family Killer Reveals Gruesome Murder Details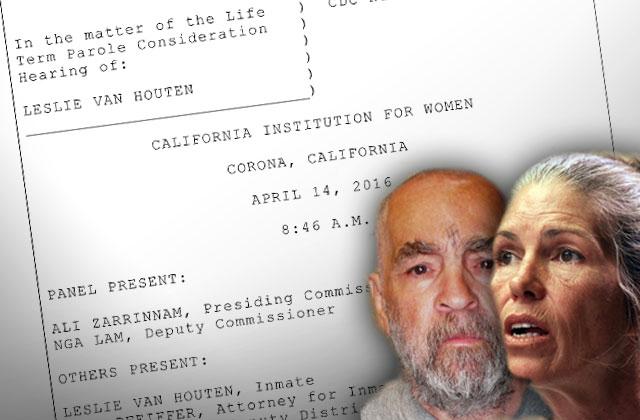 Charles Manson family killer Leslie Van Houten was granted parole after 46 years behind bars despite the desperate pleas of her victims' families, and RadarOnline.com has obtained the official transcript of her shocking testimony from the hearing.
Now 66 years old, Van Houten was 19 when she participated in the brutal Helter Skelter slayings of Rosemary and Leno LaBianca. She was sentenced to death by a jury in the 70s, but a law outlawing the death penalty gave her life in prison for the double murders.
Article continues below advertisement
"We took Mrs. LaBianca into the bedroom and put a pillowcase over her head. And she had been pleading, you know, take whatever you want, and we took her into the bedroom. I wrapped the lamp cord around her head to keep the pillowcase on her head. I went to hold her down," she explained.
"When I went to hold her down, we could hear Mr. LaBianca dying. And she jetted forward and started calling his name saying what are you doing," Van Houten recalled.
Article continues below advertisement
READ The Shocking Court Documents
"And I tried to hold her down more, and Pat went to stab her in the collarbone and the knife bent. And I ran to the door and I told Tex we can't kill her, it's not working, or something to that effect. Tex came into the bedroom. At that moment, I stared off into a den and then Tex turned me around, handed me a knife and told me to do something. And I stabbed Mrs. LaBianca in the lower torso with the knife Tex gave me."
The parole board members questioned her about the killings and Van Houten revealed why she stabbed Mrs. LaBianca.
"Because Tex told me to, and I knew I needed to do something," she insisted. "And during the LDS trips, Manson had talked about us doing horrible things to the bodies and I knew I wasn't capable, so I stabbed her multiple times rather than mutilate her any further than had been told us."
Article continues below advertisement
Presiding Commissioner Zarrinnam asked her, "You would have done anything at this point, right? If there were babies in the home, would you have killed babies, newborns, toddlers?"
"I've been asked that a lot," Van Houten admits. "And to honestly answer that question, I don't know. I think I would have, if he had said."
She told the board that she had worked with therapists and was contrite about the murders. "I realize that the way I could live with myself was to do as much good as I can in the environment that I'm in," she claimed.
The victims' families gave statements pleading for Van Houten to remain behind bars.
"I don't believe that a just society has anything in mind to…let out a member of a serial killing family, which is what these people are, bottom line," Sharon Tate's relative said to the board.
Tony LaMontagne, the grandson of the LaBiancas, sent a statement that was read to the court.
"She has shown absolutely no remorse to our family for her actions, and at this point, it couldn't be genuine even if she tried…" it read. "It's time to accept your punishment for murdering my grandfather and his wife in cold blood and stop working the system to get out. God is watching. Please remember that Leno, Rosemary and our family are the victims here, not this inmate. I repeat, not this inmate."
During the decision announcement, the board stated that her actions "were deemed to be atrocious, cruel and monstrous," but despite the pleadings, the panel unanimously recommended that Van Houten be released on parole after serving 46 years behind bars.
The decision to release Van Houten is still pending another board approval and California Governor Jerry Brown must also approve the decision.