Greed & Gore? Charles Manson's Son Says Possible New Bride's Intentions Are All About Money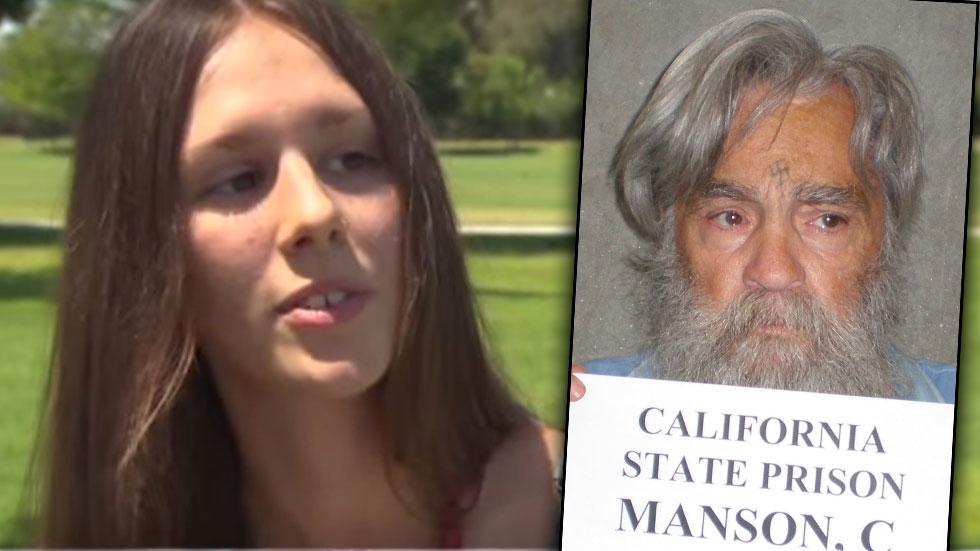 Charles Manson … abused senior?
That's the latest scuttlebutt from the serial killer's son Matthew Roberts, who said that his father's would-be bride, 26-year-old Afton Burton, is only pursuing the 80-year-old for his savings.
"For me, the whole thing is about money for her," he told Mail Online. "I absolutely believe that, there's no doubt in my mind.'
As RadarOnline.com previously reported, the murderer and Burton have been approved for a marriage license and have 90 days — until approximately Feb. 4, 2015 -- to tie the knot until it expires. Burton, who regularly visits Manson in the Kings County, Calif. he's held in, and runs websites proclaiming his innocence, was seen brandishing a ring recently, spurring speculation the two had indeed wed.
Article continues below advertisement
Speaking with the outlet, the 47-year-old Roberts (whose mother was raped by Manson during a 1967 orgy) sent a stern message to his father's love interest Burton.
"I am warning her, if she has married my dad — who is the most hated man in America — she needs to realize she will become the most hated woman in America.
"I hope she thought long and hard before saying 'I do.'"
Asked about the notion of his father's possible May-December wedding, Roberts said, "I would have gone out of curiosity … but now it seems it's happened without me.
"I think it's lame and stupid. If it's just some joke wedding and he's using it to shuffle his money around or if she's just an opportunistic pariah trying to take advantage of him then I want to know."
As for the financial aspect, with Manson prohibited from accessing his savings — and legally prohibited from profiting from under the state of California's Son of Sam laws — Roberts said he thinks that's where Burton's intentions lie.
"There's got to be something wrong with her or maybe not – maybe she'll come out of this filthy rich," he said. "The Manson name is a brand. She's after his money, he does have a lot of money."
"If it's a legal marriage your wife gets the money -- I think that's what this whole thing is about," he said.
Manson remains incarcerated in the gruesome Aug. 9, 1969 murders of pregnant film star Sharon Tate and six other people. He's next up for parol in 13 years.