Ka$hing In! Money-Hungry Kim Banks Nearly $200K From Ebay Sales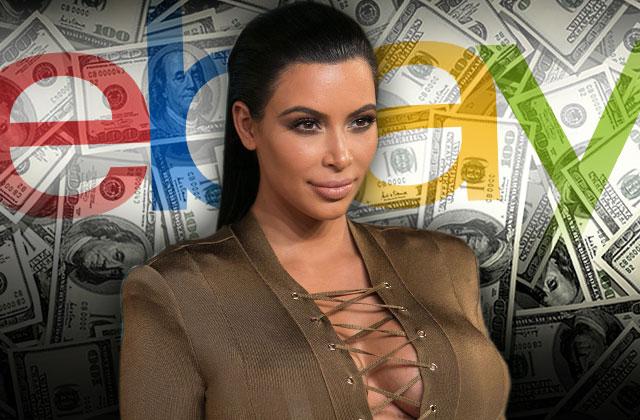 Kim Kardashian continues to expand her empire with cellphone games, emoji lines, and much, much more. But one aspect of her money-making machine will never go out of style: her eBay "charity" sales! Tax records obtained by RadarOnline.com show that she has made more than $190,000 in just one year. And with another auction just posted last weekend, she isn't slowing down any time soon.
Kardashian is selling 240 items in an eBay sale that launched on March 26. She is giving her usual 10 percent of proceeds to charity: this time, to a Miami church called Vous. But how much will that really add up to? The most recently available tax records related to her charity provide some clues.
Article continues below advertisement
In December, 2014, Kardashian sold a host of items on eBay, including a pink thong onesie, Balini leggings, and a Burberry coat, with proceeds going to California Community Church, also known as Life Change Community Church.
The 2014 IRS 990 form for Paypal Charitable Giving Fund — the company that handles distributions of proceeds from eBay charity sales — states that in that year, the religious organization in Agoura, Calif., received $21,303 from eBay sales.
Kardashian has said, "When the eBay numbers get broken down, the auction management agency that posts for me gets a percentage for all their hard work, then, eBay listing fees, end of auction fees, eBay Store fees, Paypal fees, etc, all add up to about half the sale. Then I give 10% to charity."
By her math, and the amount the charity received, the total amount of the sale could be $426,060, with $213,030 going to fees and partners, $23,303 to the church, and a whopping $191,727 to Kardashian — just for cleaning out her closet!