Presidential Election 2016
Hillary Clinton Dodges Questions About Wall Street Speech Transcripts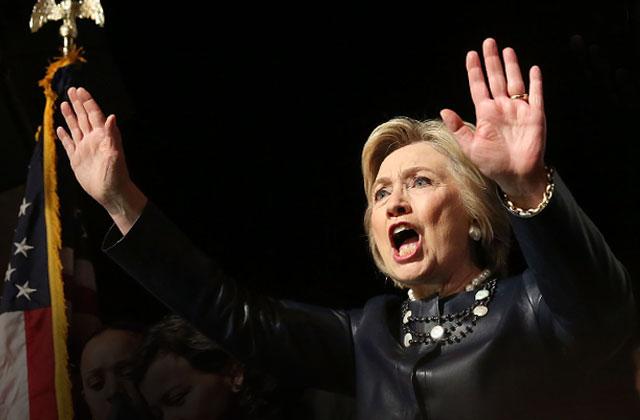 Hillary Clinton is still refusing to release transcripts from her pricey Wall Street speeches — and based on her most recent comments, it doesn't look like she will be any time soon!
The presidential candidate said in an interview with two Philadelphia newspapers that she is the most "transparent" candidate even though she won't release the transcripts of her private — and paid — speeches.
Having previously been asked by a Sanders supporter why she was hesitant to release any transcript or audio/video recordings from her speeches to big banks, Clinton responded by saying "every other candidate in this race has given speeches to private groups, including Senator Sanders."
Article continues below advertisement
Clinton's speeches have garnered her $200,000 an hour, according to reports, but the presidential hopeful has insisted they have "never, ever" influenced her policies.
Clinton then shifted the focus of the interview to highlight the "30 years" worth of tax returns she has released. She claimed that there is now a "double standard" between her and opponent Bernie Sanders, who has not yet released his tax returns.
"There certainly has been a double standard between me and others who run," Clinton said. "Let's meet the same standards. Let's start with tax returns. That has been the standard. I have more than met that standard."
Allegations of secret money, White House feuds, and a growing email scandal have certainly not helped Clinton's bid for the presidency, but the candidate insisted in the interview that she believes the American have more information about her than "anybody who's ever run for president" and that there has been a "concerted effort" to attack and criticize her.