Presidential Election 2016
Hillary & Michelle's Secret Feud Exposed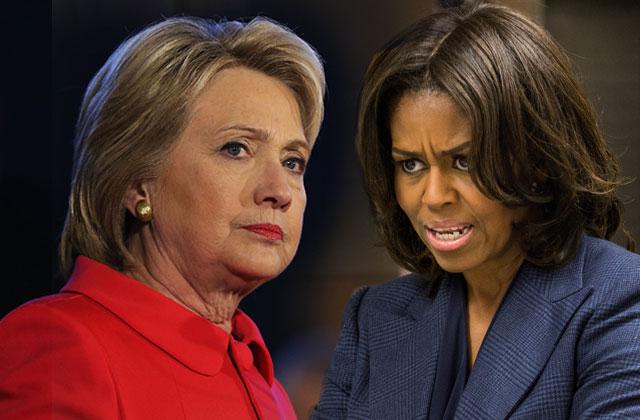 Article continues below advertisement
The book also says that Obama never forgot that Clinton had once mocked her husband's message of "hope and change" at a campaign rally, saying, "The sky will open, the light will come down, celestial choirs will be singing, and everyone will know that we should do the right thing, and the world would be perfect."
Clinton, now 68, is running once again for president, and the book claims she is motivated by revenge for her loss in 2008.
Clinton's people are said to view Mrs. O as someone who does not have "the same work ethic as Hillary."
But Obama didn't hold back any disdain either, according to the book: The author claims that while Clinton was secretary of state, the Obamas and Clintons never had a couple's dinner together! In addition, Obama was also hoping Joe Biden would run against Clinton and take the presidency away from the former first lady, the book alleges.
Author Kate Andersen Brower also heard from a former Obama adviser that the first lady doesn't see the Clintons in the most positive light. She claims the insider said, "When Michelle Obama views the Clintons, I don't want to say she's looking down her nose at them – but she kind of is."
Story developing.