Politicos Support Dennis Hastert Amid Sex Abuse Claims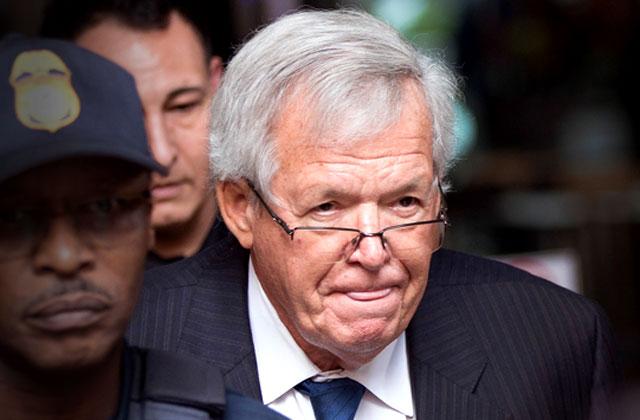 More than 40 politicians have come to the defense of Dennis Hastert, a former speaker of the house who has been accused of sexually abusing five minors.
Hastert is awaiting sentencing for a bank fraud charge, but has made headlines for the mounting accusations that he sexually abused five boys while he was a teacher and wrestling coach at Yorkville high school.
The 74-year-old pleaded guilty to one count of illegally structuring bank withdrawals in October, but said he was not guilty of the other charges. He has denied molestation claims, and said he is being extorted.
Article continues below advertisement
Former House Majority Leader Tom DeLay, ex-CIA director Porter Goss, and 40 congressmen have written letters of support for the former speaker.
Delay's letter discussed how both he and Hastert attended Bible study together and how Hastert loved the lord.
"So I know his heart and have seen it up close and personal," DeLay wrote. "We all have our flaws, but Dennis Hastert has very few. He is a good man that loves the lord. He gets his integrity and values from Him. He doesn't deserve what he is going through. I ask that you consider the man that is before you and give him leniency where you can."
Goss worked alongside Hastert when he was CIA director for the George W. Bush administration and emphasized Hastert's leadership in Washington during 9/11.
"Standing in his office looking down the mall at the smoke and flame coming from the Pentagon, the Speaker quietly replied to me, 'yes, we'll leave at once, but I am going to open the House Session so the chaplain can say a prayer,'" Goss wrote. "The Record will show that happened even while the hijacked aircraft targeting the Capitol was still in the air."
Article continues below advertisement
Regardless of these defenses, prosecutors still allege that Hastert inappropriately touched five minors when he was a teacher. The accusations range from "touching them in the groin area and genitals"' or having "oral sex with them."
One accuser, known as "Individual A," said Hastert molested him in a motel while on an out-of-town trip with the wrestling team. This same individual received $3.5 million from Hastert.
After suffering a small stroke, the former speaker remains in failing health. His wife, Jean, said she worries that if he is "taken from his home and the care he needs, his health will continue to deteriorate. "