Monster-In-Law! Mom Of Amber Rose's New Man Arrested For Domestic Assault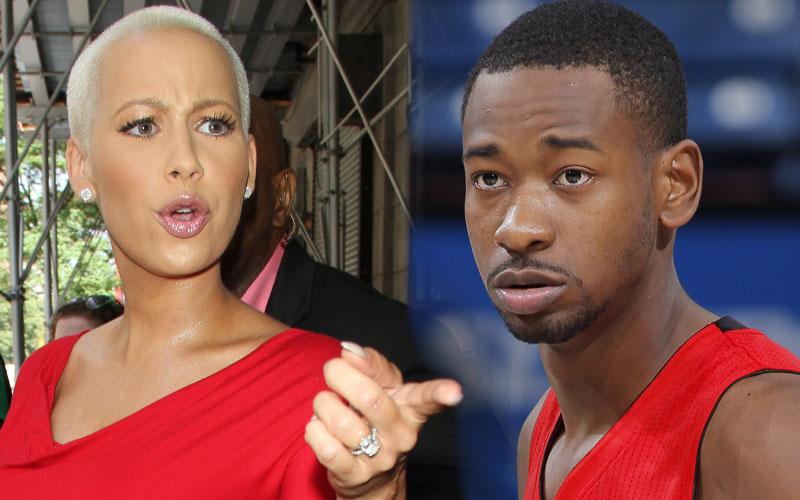 Amber Rose's new boyfriend, NBA star Terrence Ross has a dark family secret, RadarOnline.com can exclusively reveal. His mom, Marcine Bernice Ross, was arrested in 2008 for assaulting her then-husband!
On Jan 14, 2008, documents exclusively obtained by RadarOnline.com state that Marcine's then-husband Dennis Parker called Clark County, Washington police after his wife allegedly hit him and broke his phone amid their marriage meltdown.
Article continues below advertisement
READ The Shocking Court Documents
"Dennis Parker called 911 to report his wife. Marcine Parker had been hitting him. Dennis added Marcine was now walking around mad…Dennis and Marcine have been married for three years…Dennis and Marcine have been speaking about a separation," the incident report reads.
"Dennis stated they were arguing today when Marcine, 'got in his face,'" the report continues. "Dennis stated while Marcine was in his face, she slapped him on the right side of his face with an open left hand."
Marcine, 49, was charged fourth degree assault, "interfering with a report of domestic violence" and malicious mischief.
Cops claimed that she hindered the report when she knocked Parker's cell phone out of his hand, the report explains.
"Dennis stated he told Marcine he was calling 911 when she slapped the phone out of his hand. Dennis stated the phone screen was broken. Dennis stated he was able to use the phone to call 911. Dennis showed me the phone. The screen was shattered," the report states.
Article continues below advertisement
A spokesperson for the Clark County District Court told RadarOnline.com that while the mother of the NBA star was found not guilty for the assault charge, she was found guilty for interfering with the domestic violence report.
She was sentenced to five days in jail and a two-year probation. Marcine was also mandated to perform four days of hard labor, take an anger management class and pay a $318 fine.
She was also ordered to stay away from Parker for the next two years.
According to the arrest's supplemental incident report, where officials had asked for Marcine's rendition of the events, she stated that the fight started when Parker had refused to leave the home despite previously agreeing to do so.
The 49-year-old also claimed that she did not make Parker drop his cellphone because he had never told her he was going to call 911 in the first place. However, cops weren't so quick to believe her story.
"It seemed to me that Marcine was not telling the truth, her story was not fluid and not very concise, after I asked very precise questions, that she answered, with unexpected answers," the cop wrote in the report.
She and Parker divorced on Aug, 24, 2015, a rep from the Wahkiakum Superior Court told RadarOnline.com.
Marcine did not immediately respond to RadarOnline.com's request for comment.