$180M Lawsuit! Investment Company Accuses Kardashians Of 'Fraud' & 'Deceit'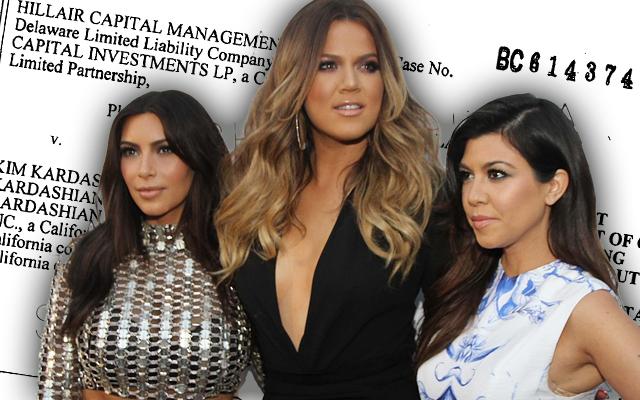 For the Kardashians, getting into the beauty industry has been ugly! RadarOnline.com has learned that Kim, Kourtney, and Khloe Kardashian have been sued by a former investor in their beauty line, nearly two years to the day after they settled another major lawsuit over the ill-fated venture.
Court documents obtained by Radar state that the three Kardashian sisters are being sued for more than $180 million by Hillair Capital Management, for breach of contract, breach of covenant of good faith and fair dealing, breach of fiduciary duty, fraud and deceit, negligent misrepresentation and promissory estoppel.
Article continues below advertisement
READ The Bombshell Court Filing
According to documents filed today in L.A., Hillair "agreed to put up millions of dollars to help the Kardashians salvage their struggling 'Kardashian Beauty' makeup line" in July 2014, "after former distributor, Boldface, went belly up amidst legal and financial troubles." (The sisters settled a lawsuit involving Boldface in April of that year.)
"The essence of the parties' bargain was that Hillair would put up millions of dollars to fund the continued distribution of the Kardashians' line, and the Kardashians would continue to be the faces of the line, and actively promote, market and support the line …" according to the documents.
"But while Hillair upheld its end of the bargain, the Kardashians did not," they claim. "… The Kardashians immediately stopped marketing, promoting, and supporting the line and began courting new potential investors to buy out Hillair's stake. In short, the Kardashians wanted a better, more lucrative deal …"
As a result, the documents claim, Hillair has "suffered significant damages." Now, they want a jury trial plus damages including at least the $10,170,000 in invested funds they say they've lost, plus the value of their equity interest in the line, worth "between $64 million and $180 million."