Exclusive
$elling A Lie! Kim Kardashian Admits In Court Deposition She's 'Not Really Good' At Makeup, Despite Slapping Her Name On Beauty Lines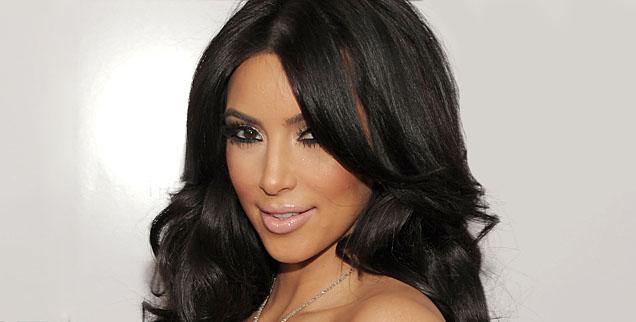 She sells makeup bearing her name… but Kim Kardashian has confessed she's "not really good" at the beauty regimen!
In a court deposition taken as part of a lawsuit surrounding a Kardashians endorsed product, the 33-year-old E! reality star — previously thought to be a makeup addict — admitted that she only wears "one shade of foundation."
"I'm not really good at saying what I think would look good for a darker skin or lighter skin," Kardashian said in the interrogation.
Article continues below advertisement
Revealed: 35 Secrets The Kardashians Want Hidden
The Kardashians are embroiled in a bitter legal dispute over their makeup line Khroma, which is manufactured by the company Boldface — an organization businesswoman Lee Tillett sued claiming they stole the name, Khroma.
Tillet was even granted a federal injunction to stop Boldface from distributing the Khroma line.
Subsequently to the lawsuit being filed, Boldface changed the name to Kardashian Beauty.
They Really Did Say It! 50 Outrageous Kardashian Quotes
But as part of the court battle, mother-of-one Kardashian sat for a disposition and revealed the inner workings of the family's business empire.
"They bring us designs of what they think, you know, packaging should look like or stuff like that and then we can go through and give them our opinion of what we like best," she said.
"We… like to get product and test it out and see what we think looks best or works best on us and help, picking the color, but only from a selection of what they give to us, because the experts in beauty - Like, obviously, I'm just one foundation color, so I know what would look best on me, but I'm not really good at saying what I think would look good for a darker or a lighten skin.
Article continues below advertisement
"They being the experts, they just bring to like the wide range of what, typically, beauty products would be and then we can test to see what they think, like the consistencies are the best of whatever we think."
Sister Kourtney also sat for a deposition and said the product choices are "important" to the famed television family.
She said, "I mean we give our opinions on products, colors… because it's our name and it's our brand, we want to - we just - you know it's important to us that it's to our liking and to a certain degree, so we just approve everything and also give inspiration."
As RadarOnline.com previously reported, the Kardashians recently filed documents in the case asking the judge to dismiss them from the lawsuit, claiming they were just the face of the product and had nothing to do with the distribution.
However, the judge shot them down and said they filed their motion prematurely.
The Kardashians have asked the judge to set a hearing to make a decision on them being dismissed from the lawsuit.
A hearing is scheduled for April 14 to determine if the Kardashians should be dropped as defendants.