Exclusive
Kardashian Sisters Claim They're 'Burdened' By Request For More Documents In Makeup Trademark Lawsuit, File Motion To Be Dismissed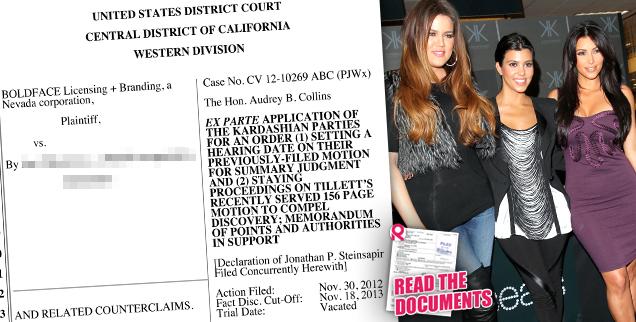 The Kardashian sisters headed back to court and have asked a federal judge to order the makeup company who is suing them to back off, and RadarOnline.com has all the court documents and exclusive details.
Kim, Kourtney and Khloe are named in a lawsuit filed by Lee Tillett, who claims makeup company Boldface stole her trademark product name of Kroma — spelling it Khroma and having the Kardashians endorse it.
Article continues below advertisement
As RadarOnline.com previously reported, Tillett is attempting to have a federal court find the sisters and Boldface guilty, accusing them of changing the package name from Khroma to Kardashian Beauty, but still having the products inside named Khroma.
The Kardashians filed court documents asking the judge to dismiss them from the lawsuit, claiming they were just the face of the product and had nothing to do with the distribution. However, the judge shot them down and said they filed their motion prematurely.
Now the sisters are pleading with the court to order Tillett to leave them alone, in court documents filed on March 10, 2014, obtained by RadarOnline.com.
"On November 26, 2013, after the close of fact discovery, Kourtney, Kim, and Khloe Kardashian, along with their loan out corporations filed a motion for summary judgement in this trademark infringement action," the papers read.
"During discovery, the Kardashians produced thousands of pages of documents. They were all deposed. Discovery confirmed there is no evidence to support Tillett's case against the Kardashians."
Article continues below advertisement
Kim, Khloe and Kourtney claim that Tillett has harassed them for thousands of pages of documents, even though the Keeping Up With The Kardashians stars have already handed over 5,000 documents to the company, and they feel the company is taking advantage of the fact that the court is still deciding whether a violation occurred, by now serving them with more requests.
The sisters received a 156-page motion to produce over 37 new documents, which they state is a burden because they've already proven they had no involvement with anything other than endorsing the makeup line.
The Kardashians have asked the judge to set a hearing to make a decision on them being dismissed from the lawsuit.