Exclusive
Kardashian Sisters: We Had Nothing To Do With Makeup Company's Federal Court Violation!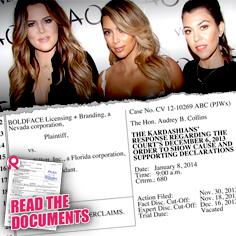 Kim, Kourtney and Khloe Kardashian are shaking in their boots after the makeup company they endorse violated a federal court injunction, and the sisters are now trying to distance themselves from the company in hopes they don't get in serious trouble, RadarOnline.com is exclusively reporting.
The Kardashians endorsed the makeup line Khroma which is produced by the company Boldface — a company Lee Tillett sued claiming they stole the name Khroma, and she even was granted a federal injunction to stop Boldface from distributing the Khroma line.
Article continues below advertisement
Boldface then changed the labeling on the line to read Kardashian Beauty, but nervous their own necks were on the line the sisters filed legal documents on Dec. 16, 2013, claiming they had no clue the name had been changed to their likeness, violating a court order.
"The Kardsashians are not involved in running Boldface — they are not part of its management, nor are they agents, employees, officers or directors of Boldface," the sisters' court response to the filing reads.
"The Kardashians have no involvement in deciding when particular products should be distributed, or where they should be distributed — those decisions are all made by Boldface alone."
In addition, the Kardashians state they "understand that any violation of the Court's Orders is a very serious matter," and request that a motion for summary judgment be put on the calendar to clear up whether "the Kardashians are proper parties in this case."
The court has yet to rule if the Kardashians are going to be held accountable along with Boldface for the violation.