Shocking Prison Plan: 'Unabomber' Ted Kacyznski's Jailhouse Baby!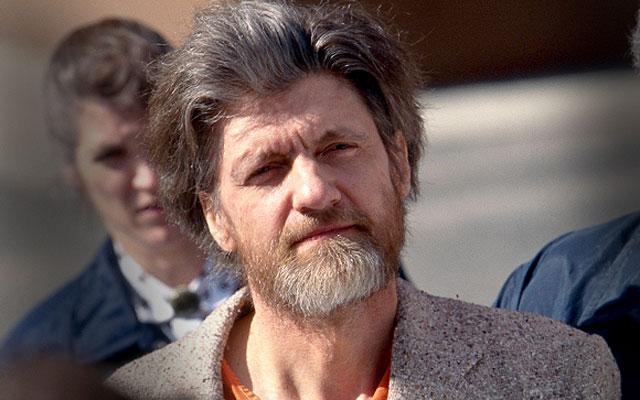 Unabomber Ted Kacyznski has been in jail for more than fifteen years. But RadarOnline.com has learned that behind bars, he's been planning what could be his most diabolical scheme yet!
Never-before-seen documents reveal that the infamous Unabomber has become obsessed with finding a way to impregnate a woman from prison.
In a bombshell exclusive, RadarOnline.com can reveal that madman Kacyznski has poured over laws governing whether a prisoner has a right to use artificial insemination to create a baby.
Article continues below advertisement
Such records raise new – and disturbing – questions about whether the egghead-turned-anarchist managed to smuggle his sperm out of his supermax prison to create a "Unabomber baby."
"I honestly don't know why he would be reading those materials," Quin Denvir, who helped represent Kaczynski after his 1996 capture, told RadarOnline.com.
Denvir suggested, "He's an intellectually curious fellow and once he get into a topic, no matter how obscure, he collects everything he can about it." But is there a more dastardly reason?
RadarOnline.com obtained the documents from the University of Michigan, Special Collections Library, which is working with Kaczynski to preserve his ramblings for posterity.
The trove includes 93 boxes full of Kaczynski's writings, from the infamous "Unabomber Manifesto," to mundane correspondence he wrote while serving eight life sentences in a Colorado supermax facility.
But buried in those boxes is a folder labeled, "Artificial Insemination."
Article continues below advertisement
There, RadarOnline.com made the shocking discovery of a dossier detailing the procedure by which a woman can be impregnated through a donor's sperm.
The pages are collated into a ringed binder and headed with a title page that has scrawled upon it, "Save for Ted Kaczynski."
Among those pages, RadarOnline.com found:
Pages from the Montana State Code concerning a sperm donor's right to assert paternity over a child – and whether the donor can demand a test.
Pages from The Atlantic Reporter, covering a convicted New Jersey murderer's 1994 lawsuit to force state prison officials to allow him to artificially inseminate his wife.
A six-page summary from the "Federal Supplement" about a California death row inmate's 1992 suit to allow him to artificially inseminate a woman.
A summary of the 1988 case "Goodwin v. Turner" in which a prisoner sued a federal facility for the right to artificially inseminate his wife.
Thirty eight pages of "Rights and Obligations Resulting from Human Artificial Insemination," or a summary of American law governing the procedure.
An Ohio State Law Journal article entitled, "The Need for Statutes Regulating Artificial Insemination by Donors," that summarizes all the cases about A.I. in the U.S. since World War II.
A Harvard Law Review article entitled, "Reproductive Technology and the Procreation Rights of the Unmarried," that explores whether the U.S. Constitution guarantees the rights to procreate – even among the imprisoned.
With all of these documents in mind, does the country have to fear a Kacyznski spawn?
The Bureau of Prisons told RadarOnline.com prisoners can only use artificial insemination under a very specific set of criteria. Those cases typically involve prisoners with an underlying medical condition, such as testicular cancer or other diseases that might cause sterility.
However, Kaczynski's prison evaluations, also obtained by RadarOnline.com, allude to some mysterious medical condition that has resulted in Kaczynski being excused from a prisoner's typical workload.
Unfortunately, privacy laws prevented RadarOnline.com from obtaining more information regarding what affliction has befallen the Unabomber.
Even more terrifying, experts interviewed by RadarOnline.com broached another scenario in which Kaczynski may have donated sperm during his years as a recluse in a small cabin in a remote area of Montana.
Article continues below advertisement
RadarOnline.com turned up a facility in Missoula, a mere 80 or so miles from the location of his cabin near Lincoln, although it is once again impossible to know for sure, because of privacy laws, what really happened.
"There is the awful possibility Kaczynski may have leveraged his evil genius to manipulate a corrections officer, or some other prison employee, into smuggling out his sperm to a donor bank. It is a terrifying thought to imagine the Unabomber may, indeed, have an heir!" said a source.
Kaczynski was arrested in 1996 after a nearly 20-year manhunt. His infamous mail bombs killed three and maimed 23 more.
Although deranged, he has an IQ of 167 and graduated from Harvard at the age of 20 before becoming a U.C. Berkeley professor. He then vanished into the Montana wilderness in 1971 to begin a reign terror over America. In 1998, he pleaded guilty to four bombings in 1985, 1993 and 1995, and was sentenced to multiple life terms.