Murder In Minnesota: Death Family Dad Was Facing Massive Lawsuit Before Slaughter -- Secrets Of The Tragedy Exposed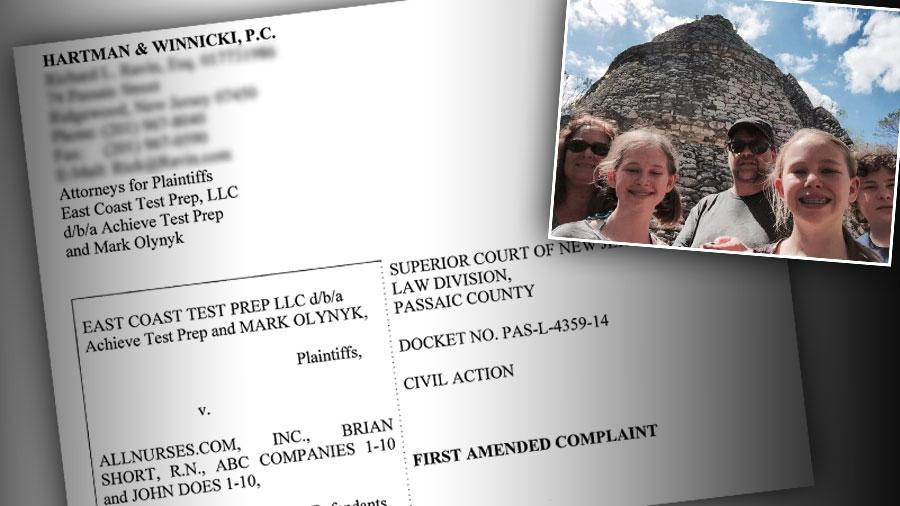 Mystery still surrounds what happened inside the Minnesota home where Brian Short and his family were found dead this week. But RadarOnline.com has learned that Short was facing a massive defamation lawsuit in recent months -- and received bad news in the case just days before the murder-suicide that left him and his entire family dead.
According to court documents obtained by Radar, Short, his company AllNurses.com, and several commenters and employees of the site, were sued by Achieve Test Prep and East Coast Test Prep back in April.
Article continues below advertisement
The list of charges in the defamation suit is long and complicated: trade libel, non-applicability of communications decency act, breach of terms of service, breach of implied covenant of good faith and fair dealing, promissory estoppel, common law misrepresentation, New Jersey consumer fraud act, trademark infringement, common law unfair competition, unfair competition, tortious interference with prospective economic advantage and contractual relations, vicarious liability, and more. The moderators and commenters were also sued for defamation.
In the complaint filed in April, ATP claimed that Short, his employees and commenters colluded to endorse and approve posts on the AllNurses.com site which were "false, misleading, defamatory, and derogatory against ATP, and favorable to AllNurses."
In particular, ATP claimed that a college program "directly competing with ATP," Excelsior College, was given preferential treatment on the site. The complaint notes that Excelsior College was a major AllNurses advertiser, and the alma mater of one of the moderators.
Article continues below advertisement
The posts on Short's site "caused injury" and "irreparable damage" to ATP, including "a loss of business," they claimed in the complaint. Insisting the behavior of Short, his employees and customers was "willful and malicious," the company asked a judge to award them damages and a jury trial.
After that initial 101-page complaint, the case would see more than forty filings over the next four months.
In July, the plaintiffs requested permission to serve subpoenas on both Short and AllNurses.com that would give them access to the records of the site.
Most recently, on August 28, Short's attempt to have the case dismissed was denied, and the judge ruled that it should be moved to his home state of Minnesota.
Less than two weeks later, Short and his entire family -- wife Karen, 48; a son, age 17; and their daughters, ages 15 and 14 -- were all found dead in their Minnesota home.
AllNurses.com posted a message confirming the news on the site, but further details have not been released.
Story developing.