Renee Zellweger Planning To Dump Boyfriend Doyle Bramhall — For Someone Else?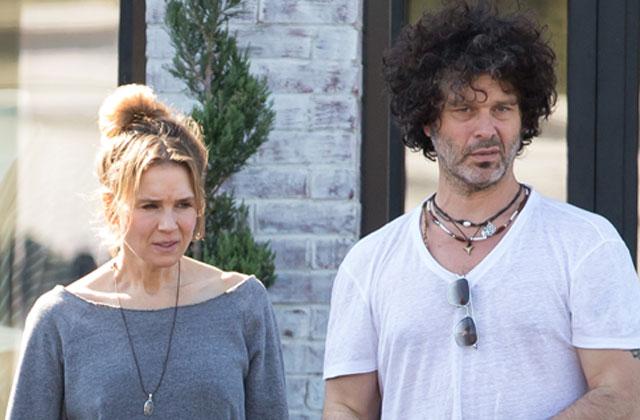 Renee Zellweger's love life has hit a rough patch, as an insider tells RadarOnline.com that the actress may break up with her rocker boyfriend, Doyle Bramhall II.
According to sources, the 46 year-old's busy schedule seems to be taking a toll on the couple recently, as well as Renee's flirty friendship with fellow actor Patrick Dempsey.
As previously reported, the star is said to have developed feelings for her hunky Bridget Jones's Baby costar, continuing communication even after the film wrapped last year.
Article continues below advertisement
"Renee and Doyle are on the verge of splitting," revealed an insider of its effects on the couple. "When Renee and Doyle hooked up and fell in love, she was on a work hiatus, so Renee had all the time in the world for her personal life."
"She and Doyle built a happy home life together and they even discussed adopting a baby together," the source continued. "But then movie offers came flooding in and now Renee's career is back on the front burner, and Doyle feels neglected."
Since her blossoming friendship with Dempsey, Doyle's jealously has reportedly boiled over.
"Doyle and Renee drifted apart emotionally when they were separated for weeks at a time, and they haven't been able to rekindle the spark," a source close to the star shared. "Renee hit her breaking point over the jealousy issues. She made it clear to Doyle that she and Patrick are just friends and that she's simply being a shoulder for Patrick to lean on while he and his wife Jillian Fink work through their marital problems."
Article continues below advertisement
However, as RadarOnline.com previously reported, Dempsey seems to have officially reconciled with his wife, calling off their separation just last month.
"After weeks of bickering and being unhappy, Renee told Doyle early this year that she wants to go on break while she focuses on work," the insider continued. "Renee is just trying to let Doyle down easy by making it seem like the split is temporary. She's definitely ready to move on."
The couple, who first got together in 2012, had plans to marry twice before, but couldn't agree on prenup details.
"Renee had hoped that she finally found her happily ever after, but it's not working out that way," RadarOnline.com's source concluded. "With her career reboot in full swing, Renee doesn't want to be carrying around dead weight — which is what a lot of her friends think Doyle is."
Do you think Renee is hoping to spark a romance with Patrick? Let us know in the comments below!