Dark Secret: Jodie Sweetin's Fiancé Served Time In Prison For Drugs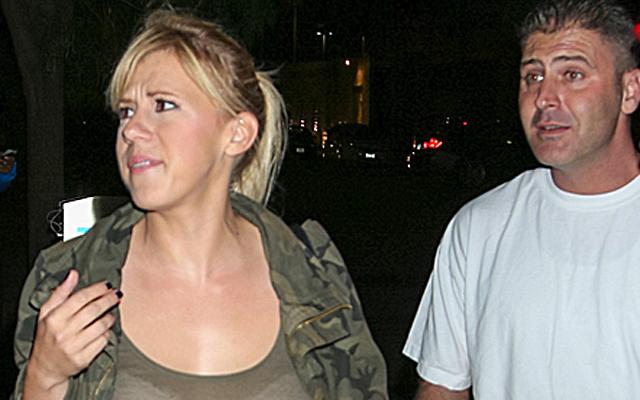 Former child star Jodie Sweetin has gone from Full House to a fiancé who's done time in the big house!
Her husband-to-be, Justin Hodak, served nine months in a California prison starting in 1999, according to court documents obtained exclusively by RadarOnline.com.
The 39-year-old was convicted on "drug and stolen property charges," California Department of Corrections Public Information Officer Bill Sessa told RadarOnline.com.
Article continues below advertisement
After committing a parole violation, Justin was back behind bars from January to March 2001, Sessa added.
"Jodie is going to be red-faced with embarrassment when this gets out!" an insider dished to RadarOnline.com.
But Sweetin, 34, isn't squeaky clean either!
The actress has battled her own booze and drug addictions, and has been divorced three times!
She married L.A. police officer Shaun Holguin when she was 20 in 2002, but they split four years later after he discovered she was using crystal meth, she has admitted.
Sweetin then wed Cody Herpin in 2007, and gave birth to their daughter, Zoie, the following year, but they divorced in 2010 after Herpin claimed she was an unfit mother.
After that, Sweetin had daughter Beatrix in 2010 with Hollywood DJ Morty Coyle. They wed in 2012, but she filed for legal separation after only 15 months.
As RadarOnline.com previously reported in August 2013, Sweetin entered a $50,000-a-month residential treatment facility after failing to win sole custody of Beatrix.
Article continues below advertisement
Sweetin — who's reprising her role as Stephanie Tanner in the "Full House" reboot, "Fuller House" — admitted in her 2009 memoir, "unSweetined," to hiding her use of cocaine, meth and ecstasy while claiming publicly to be sober. But she insisted her druggie past is behind her, as does Hodak, who said he's been sober for more than a decade.
"Jodie says she and Justin are a perfect fit," a pal confided.
"They lean on each other for support. But Justin's past is not something she wants to trot out to her pals on the Full House reboot ― or to fans of Dancing With the Stars."