'Fuller House' Star Jodie Sweetin Defeats Former Husband in Custody Dispute— Inside The Angry Emails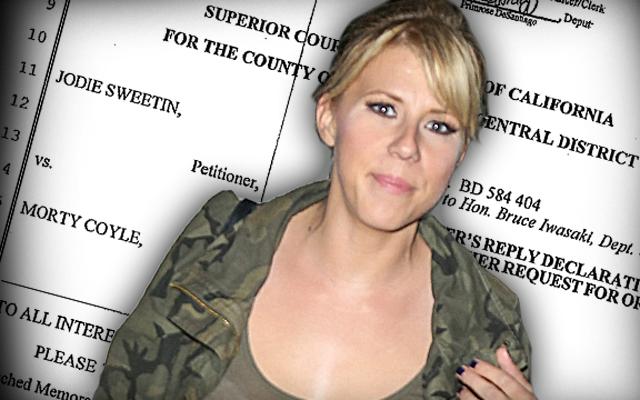 Full House never had this much drama!
Jodie Sweetin and her ex-husband, Morty Coyle, battled in court over their daughter Beatrix's schooling— and the Netflix actress won the war, RadarOnline.com can exclusively reveal.
According to California Superior Court documents obtained by Radar, the former child star, who split from third husband Coyle in June 2013, fought for her 5-year-old to attend a Los Angeles elementary school with her older half-sister, Zoie, 7. However, her musician ex insisted that Beatrix attend a different school across town.
Article continues below advertisement
READ THE SHOCKING COURT DOCUMENTS & PERSONAL EMAILS
The 33-year-old argued that her two daughters should "have the opportunity to spend time together each day," and logistically speaking, it would be too difficult to drop off and pick up her girls from different schools.
She claimed that despite her disapproval, Coyle, 47, enrolled their daughter in his choice of school— going against their joint legal custody agreement.
"I want to be very clear that I do not want Bea enrolled at this time, and that by your choosing to enroll her, you are going against my wishes," Sweetin wrote in an icy email on July 20, 2015. "We have to agree on any schooling decisions and…if we cannot, the court must decide it for us. It seems as though we will have to go that route."
Coyle snapped back in a responding filing that his ex "employed several nannies" to help juggling mothering duties, and therefore she would not be inconvenienced by the different school drop-off and pick-ups.
Article continues below advertisement
He also claimed his enrolling Beatrix in the school was not a surprise, but was actually an agreement between both parties.
"I'm willing to do whatever it takes for Bea to have this opportunity, Jodie. Please don't take it away from her," Coyle pleaded with his ex in another email presented to the court.
A judge sided with Sweetin, ordering "Petitioner Mother shall have tie-breaking authority on school issue" through June 2018, after which "it will revert back to joint legal custody on the issue."
"Joint legal custody on all other issues remain in full force and effect," the judge wrote in the July 29, 2015 ruling.
In other good news for Sweetin, Fuller House will debut on February 26, complete with fellow rehab-alum John Stamos and other former Full House costars Candace Cameron Bure, Andrea Barber, Bob Saget and Dave Coulier.
Mary-Kate and Ashley Olsen, however, will not be making an appearance on the new series.