Spitzer Choking Accuser Revealed As Former Hooker — Inside Her Secret Past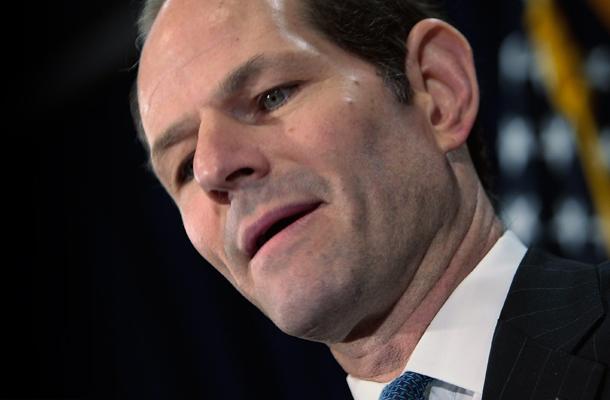 Has Eliot Spitzer started visiting ladies of the night once more?
The former governor, who famously stepped down following a shocking prostitution scandal in 2008, was accused of choking a woman in the Plaza Hotel this weekend, as RadarOnline.com reported.
But, new details reveal his alleged victim's equally dark past.
According to police, Svetlana Travis, 25, is believed to have written under the byline Svetlana Z for an article, titled Sex is Sex, but Money is Money, which detailed her sordid double life as a prostitute.
Article continues below advertisement
"I turned 24 in March and have managed to save $200,000, by f***ing for money," the article, published on website Medium, reads.
Cops believe Travis began a relationship with Spitzer two years prior, as evidence suggests the shamed former governor was her "sugar daddy."
"They met before this, and she was a prostitute at the time," a police source told The New York Post.
However, the relationship seemed to turn sour Staurday night. As RadarOnline.com reported, Travis, called authorities around 8 p.m., claiming to have cut her own wrists.
After police searched Spitzer's luxurious $1,000-per-night room and took Travis to Mount Sinai West Hospital, the Russian-born woman claimed to staffers that Spitzer had attacked her that evening.
According to a source, Travis, who claimed to be Spitzer's girlfriend during her police interview, "said that she told Spitzer she was going back to Russia, and he got upset and started throwing her around, choked her, threw her to the ground and threatened her."
However, since the incident, Travis has given conflicting accounts to police. Now, she has become completely uncooperative, sources say.
"There is no truth to the allegation," Spitzer's spokesperson, Lisa Linden, later said of the allegations.
Despite the NYPD opening an investigation under the leadership of Chief of Detectives Robert Boyce, Spitzer has yet to be charged with a crime.