'Mob Wives' Feud? Karen Reveals The Truth About Big Ang Wake Drama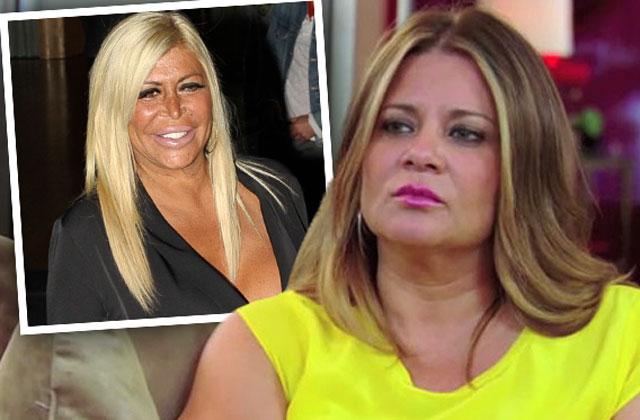 Over the weekend, reports suggested that Karen Gravano had been banned from Angela "Big Ang" Raiola's wakes.
But the Mob Wives star tells RadarOnline.com that she decided to skip the four wakes because she was too sad about her friend's death.
"I didn't go to the wakes on the first day because I was very upset," she told Radar. "The second day, I didn't want to go because all of the buzz and didn't want to make it about that. It was about Ang."
Article continues below advertisement
According to Gravano, "there were people my father had history with, and I didn't want to make it about that."
"I just wanted to respect the family and go at the time that I thought was right," she said.
For Gravano, 43, this meant attending the Raiola's funeral services at the Basilica of Regina Pacis in Brooklyn on Monday.
"I didn't go to the wake, but I did go to the funeral because I thought that was appropriate," she explained. "I went to the funeral to pay respects to my friend."
Gravano was also with Raiola, 55, when she died last week after losing her battle to stage four brain and lung cancer.
"I was at the hospital the day she passed," she said. "I was there when she passed and to see her off."
The reality star didn't take the rumors to heart.
"I don't care what people think," she said. "We had a true relationship, and that's all that mattered."
According to Page Six, Gravano and cast member Brittany Fogarty were banned from the Raiola's wakes due to "bad blood" in the familes' past.