Exclusive
Farewell To Big Ang! Inside Her 'Disco-Themed' & Open Casket Wake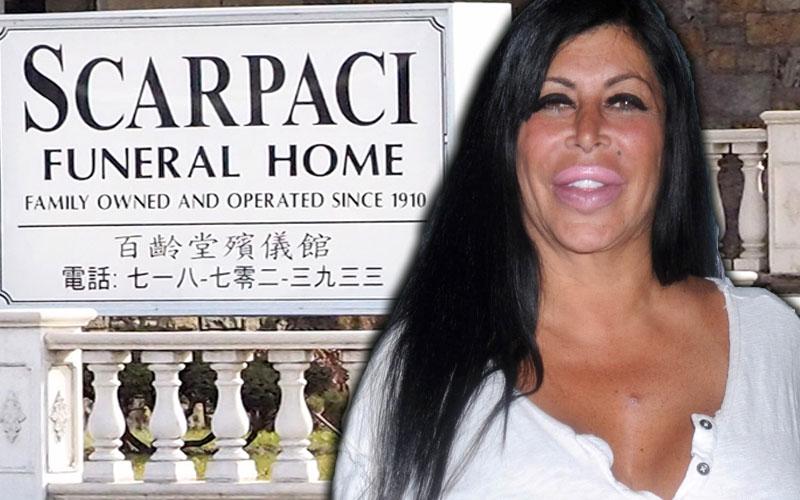 Today Mob Wives stars, fans, and family all gathered together to grieve for the loss of Angela "Big Ang" Raiola at one of four wakes being held this weekend in Brooklyn, and RadarOnline.com has all the details.
According to multiple sources, the first of the mourners began to file through promptly at 2:00 PM ET, as everyone lined up to pay their last respects at what the sources said was "an open casket wake."
Article continues below advertisement
"Angela was wearing a black dress with a black fur coat and black heels," a source told RadarOnline.com. "She also had a headscarf on." As she had battled Stage 4 cancer in her last weeks, she had lost her hair.
Raiola's family did the best they could to honor her life.
"On the inside of the casket, it said 'Big Ang,'" the source described. "They also had a video montage."
"As for flowers, they had a monkey arrangement from her friends at her bar The Drunken Monkey," the source continued. "They had big lips, a Chanel symbol, her dog, Patron. VH1 also sent a smaller arrangement. There were flowers everywhere."
Saying goodbye wasn't easy for her family.
"I'm okay ... I'm actually not doing good to be honest," one of Raiola's brothers was overheard saying.
And Raiola's estranged husband Neil Murphy — whom she made peace with just shortly before her passing — didn't seem to be handling the situation well either.
"Neil seemed a little upset," the eyewitness noted. "He didn't cry or anything, but he actually walked out in the middle of her video montage."
Article continues below advertisement
"I'm hanging in there," he told a mourner. "It's been hard."
According to the sources, only two of Raiola's costars were spotted at the first wake.
"Renee Graziano was there," the source said. "And Drita D'avanzo made it as well. She was crying hysterically."
But despite the sad scene, the family lightened up the atmosphere with a fun theme.
"The wake was disco-themed," the source said, in a tribute to Raiola's favorite tunes. "They had disco music playing in the background."
As RadarOnline.com previously reported, Raiola's family is hosting a total of four wakes this weekend.
On Monday, Raiola will be laid to rest following a church service.
"They want everyone going to the funeral to wear disco clothes," the source said.
Raiola passed away on Feb. 18, at the age of 55, surrounded by family and friends.
"This whole situation has been extremely hard on everyone," a friend of the family told RadarOnline.com.