Yolanda Foster Shares Photo Of 'Brave' Daughter Bella Fighting Lyme Disease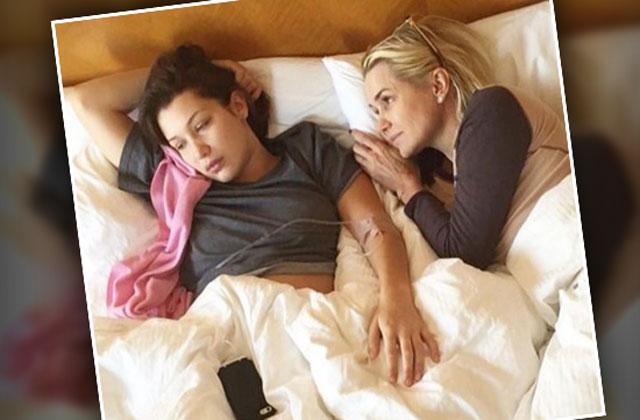 After sharing her battle against Lyme disease with fans for some months, Yolanda Foster turned her attention to her youngest children, Bella, 19, and Anwar 16, who have also been suffering from the "invisible" illness since 2012.
As revealed in a Bravo blog Tuesday, Foster said she believes they contracted the disease while living on their Santa Barbara horse ranch for close to a decade, a property that allowed for plenty of outdoor activity.
Article continues below advertisement
In a new post on Instagram, Foster shared a photo of Bella lying in bed, receiving fluids from an IV as her mother looks on in support.
"Watching my brave babies stuffer in silence in order to support me in my journey has struck the deepest core of hopelessness inside of me, it is because of them that I continue to fight relentlessly," Foster wrote. "I will not allow them to live a life of pain and suffering."
"I will prevail and walk to the end of the earth to find a cure for them and millions of others debilitated by this invisible disease!!!! We all deserve to live a healthy life, don't you think?" she concluded, adding the hashtags "#WeMustFindACureAffordableForAll" and "#RealLifeProblems."
"I do not wish to make public my family's private matters, but I would like to make it clear that I completely and unequivocally support my children and their mother," he shared in a statement on Tuesday. "I have too much respect for all five of my children to speak about them publicly."