Exclusive
Madonna Scared For Her Life After Sean Penn's El Chapo Interview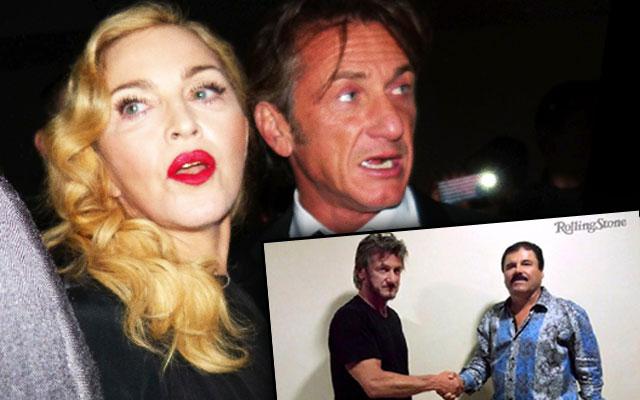 Madonna fears for her life now that it's been revealed that her ex-husband Sean Penn's meeting with Joaquin "El Chapo" Guzman led to the murderous drugs lord's capture, RadarOnline.com has learned.
The Material Girl, who is seeing her ex again, fears the worst from Guzman's thugs because they believe she and Penn knew that Mexican authorities were monitoring his secret get-together with El Chapo.
John A. Carman spent 16 years fighting Mexico border drug traffickers as an agent with the U.S. Customs Service and is now a law enforcement consultant. He told Radar: "El Chapo's associates are going to want payback for his arrest and they'll stop at nothing to get it. In their minds, they blame Sean and Madonna for bringing down the 'most dangerous man in the world' — and that will mark them both for death."
Article continues below advertisement
"While tough-talking Sean told her she's safe, Madonna nonetheless is living in fear," an insider revealed. "She is furious with Sean for putting her in danger."
El Chapo, a pint-sized billionaire whose nickname means Shorty and who is wanted in several U.S. states for multiple murders as well as smuggling massive amounts of drugs, had been on the lam since last July when he dramatically escaped from a Mexican via an elaborate mile long tunnel.
Penn linked up with top Mexican actress Kate del Castillo, 43, to stage a meeting with El Chapo. The October sit-down over tacos and tequila at a secret Mexican jungle hideout led to Penn writing a fawning article about the monster for Rolling Stone magazine in which he compared him to Robin Hood.
Insiders are now telling Madonna, 57, to cut all ties with 55-year-old Penn — for her own safety and that of her four children.