Inside The 'Alaskan Bush People's Sneaky $27K Government Scam!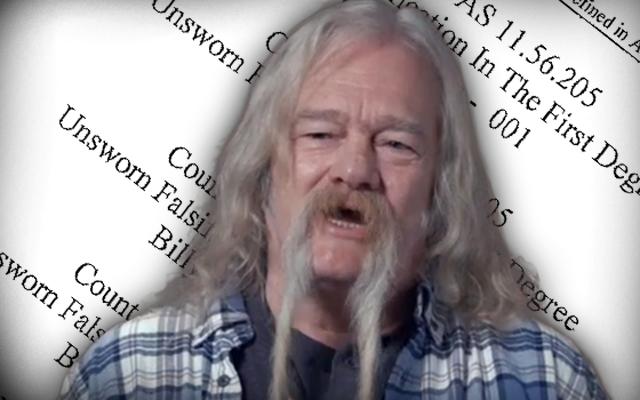 Forget the bears, the Brown family is in big trouble with another angry animal: the Alaskan government.
The Alaskan Bush People clan allegedly swiped a shocking $27,000 from the state, RadarOnline.com can exclusively reveal.
As RadarOnline.com reported late last year, patriarch Billy Brown, 63, was charged with 24 counts of unsworn falsification and theft after authorities claim he lied on official government applications regarding their Alaskan residency, and ran off with thousands in unearned paychecks.
Article continues below advertisement
According to Alaskan District Court documents exclusively obtained by RadarOnline.com, his wife Ami, 52, was charged with eight, second oldest son Josh, also known as "Bam Bam," was charged with six, Solomon, or "Bear," 28, and Gabe, 26, were each charged with eight, and youngest son Noah, 23, was charged with six counts relating to the same crime.
READ THE SHOCKING COURT DOCUMENTS
The reality TV family allegedly faked being Alaskan citizens for four years in order to get fat four-figure dividend checks from the government. Instead, they all lived in the lower 48 states for much of that time, authorities believe.
On October 7, 2010, Billy received $5,124 on behalf of his family after lying on their applications earlier that year.
In October 2011, the father of seven cashed out at $3,522.
The next year, he took home $2,634.
In October 2013, Billy falsely laid claims to $1,800.
Over four years, four of his five sons allegedly stole $13,873 in government money the state claimed they didn't deserve as non-citizens.
Article continues below advertisement
The Browns have yet to pay for their alleged crimes, but the assigned judge has said he'll ensure they will be punished.
Though Billy and Josh pleaded guilty to one count of unsworn falsification each in an attempt at a deal with prosecutors, the judge shut down their proposed arrangement, claiming the father/son duo deserved jail time.
The family will make their next court appearance on January 11.
Oldest son Matt, 33, evaded charges on the family scandal, but he has his own history of legal trouble.