Exclusive
It's A Miracle! Yolanda Tells Bravo She's Recovered From Lyme Disease Symptoms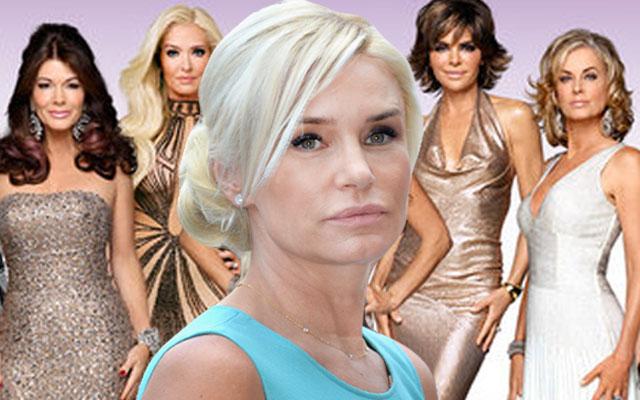 In a move sure to raise eyebrows among her castmates, Yolanda Foster has told Bravo she is having an almost full recovery from her Lyme disease symptoms, just in time for the taping of the Real Housewives of Beverly Hills reunion.
The blonde beauty "has informed Andy Cohen she will definitely be on board for the upcoming reunion," an insider revealed. "During the reunion last year, Yolanda was only able to film for under an hour because she was suffering from the effects of her Lyme disease. But this year she feels like it's almost a full recovery."
Article continues below advertisement
Now, the source said, "with the Lyme disease controversy being Yolanda's storyline this year, she is ready to fight back against accusations she has been faking it. Yolanda won't allow the other ladies to bully her about the hell she has been through. She's feeling much stronger than she has in months, and the ladies are going to be in for a big surprise when Yolanda lights into them."
Her estranged husband, David Foster, 66, "obviously won't be attending, however, because of their pending divorce."
But questions surrounding Yolanda's diagnosis continue to swirl.
On Tuesday night's episode of RHOBH, Taylor Armstrong, 44, confronted the cast about Yolanda's health, which left the Dutch former model seething.
In a blog post, Yolanda, 51, said, "What I saw on the show tonight was…IGNORANCE. Maybe it should anger me, but instead it makes me want to fight harder and speak louder for those whose voices can't be heard. Before being a Housewife and suffering from a chronic illness, I was a Super Mom."
Article continues below advertisement
"Today I do the best that I can," she added. "I cheer from the sidelines, I watch from afar, but anyone who is a mother knows the frustration and inadequacy one feels when physically your health keeps you from participating in your children's lives with the strength you once had. I've missed my daughters' first runway shows, birthday parties, award shows, Anwar's her son football and soccer games."
The source added, "Yolanda is ready to take on 2016 with a vengeance. She won't be a victim any longer."