Suspected Pedophile Mark Salling Sued For Sexual Battery, Assault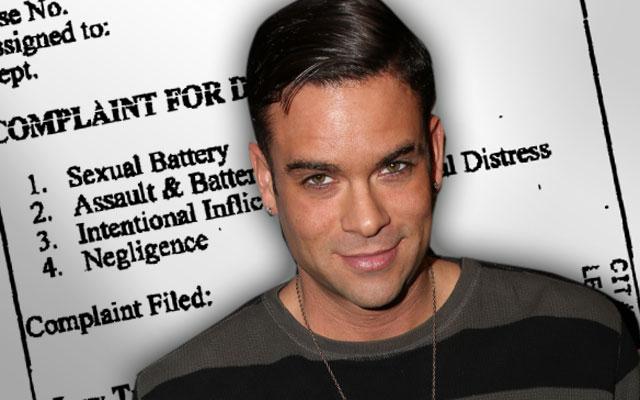 Mark Salling's arrest for child pornography possession may come as a shock to Glee fans, but the actor has a history of sexual misconduct allegations, RadarOnline.com can reveal.
In 2013, the TV star, 33, was slapped with a lawsuit by an ex-girlfriend for sexual battery, assault and battery, intentional infliction of emotional distress, and negligence stemming from a terrifying night alone together two years prior.
Article continues below advertisement
According to Los Angeles Superior Court documents obtained by RadarOnline, model and deejay Roxanne Gorzela, 38, claimed Salling, then her boyfriend of six months, refused to wear a condom during sex despite her repeated demands during a March 2011 encounter.
"Although Defendant was aware that Plaintiff did not consent to unprotected sexual intercourse, Defendant violated Plaintiff again by inserting his penis into Plaintiff's vagina without a condom for a second time," her attorneys stated.
For days after the sexual encounter, Salling allegedly ignored Gorzela's texts and calls. Then, on March 15, Gorzela said she showed up at the actor's home "in order to speak…about her health concerns."
Instead, she found him in bed with another woman.
According to Gorzela, Salling "grabbed" her and threw her on the ground, causing her to land on her knees and hit her head.
"Plaintiff has suffered severe injuries to her person and psyche for which she has and will continue to sustain medical expenses, loss of income, pain and suffering and emotional distress," her attorneys claimed. "Further, Plaintiff has suffered knee contusions as a result of her fall."
Article continues below advertisement
His behavior was "willful, malicious and despicable," the documents stated.
Salling denied every one of her damning allegations, claiming Gorzela refused to leave his home during the confrontation, acted "angry and hostile," and damaged his car.
Two years later, a judge sided with the Plaintiff, demanding Salling pay her $2.7 million.
The Glee actor's fate has yet to be determined in his child pornography case.
He was reportedly taken into custody on December 29 after authorities raided his Los Angeles home.
Keep reading Radar for the latest on this breaking news story.